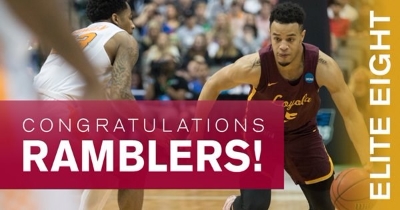 CHICAGO—(ENEWSPF)—March 23, 2018
By: Rosemary Piser
The miracle continues! Rogers Park's "home team" the Loyola University Ramblers Men's Basketball Team won another thrilling victory Thursday in the NCAA Basketball Tournament. This marks the first time since 1963's NCAA championship team that Loyola will advance to an "Elite Eight" game.
The New 400 Theaters is sponsoring a free viewing of the Loyola game on the big screen. Tip-off is Saturday, March 24th at 5:09 p.m. Doors will open at 4:30 p.m.  Admission is free on a first-come, first-served basis.
Food and refreshments will be available for purchase and the theater offers a full bar.
The tournament started last week with 68 teams and Loyola is now one of eight teams remaining. Loyola will be taking on the Kansas State Wildcats in this Elite Eight thriller.
For additional information, call Alderman Joe Moore's office at 773-338-5796 or email [email protected].
The New 400 Theaters are located at 6746 North Sheridan Road (just south of Pratt) in Chicago. If traveling by the El, the theater is just north of the Loyola Station on the Red Line.
Neighborhood parking on weekends is unrestricted on all side streets. Parking is always available in the all-day parking garage located at the intersection of Sheridan Rd. and Arthur Rd.
Source: Chicago Alderman Joe Moore