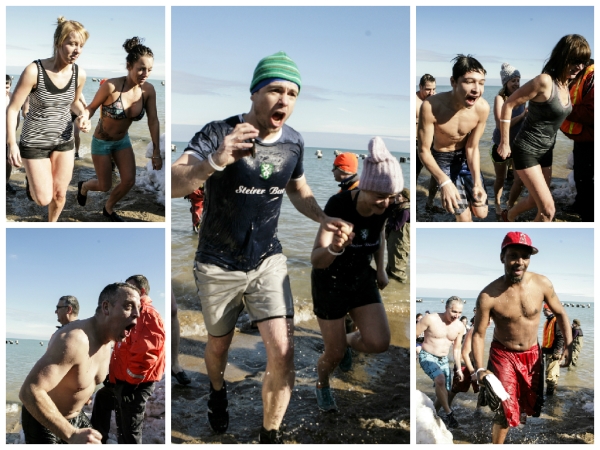 CHICAGO—(ENEWSPF)—December 26, 2017
By: Rosemary Piser
The 17th Annual Chicago Polar Bear Club Polar Plunge will take place on Saturday, January 20, 2018 beginning at 12 noon at Oak Street Beach in Chicago.  Hundreds of men and women will run into the freezing waters of Lake Michigan, many in costumes.
Each year, the Chicago Polar Bear Club (formerly the Lakeview Polar Bear Club) raises funds from hundreds of plungers and their family and friends to support local families challenged by difficult circumstances. Since its first fundraising event in 2003, the CPBC has raised more than $300,000. 100% of the money raised goes directly to the families in need. This year, CPBC aims to raise $35,000 from 700+ donors to support two local Midwestern families: the Drew Family and the Hambrecht Family.
Cynthia Drew, a resident of Evanston, IL, is a loving matriarch and is unshakably dedicated to her family. "Miss Cynthia" as she is known among her many friends, provides and cares for an extended family that lives with her including her wheelchair bound niece who has Cerebral Palsy, as well as her sister, daughter and grand-daughters. Despite a heart condition that has left her unable to work since 2015, Miss Cynthia continues to provide care for her large and loving family. Unfortunately, the family's apartment, where they have lived for the past 15 years, is currently in foreclosure and they are now forced to relocate by January 2018. CPBC's goal this year is to help the Drew Family through this move by offsetting the increased costs, additional security deposit, moving fees, etc.
Alaina and Eric Hambrecht's 2 year old son, Callum, was born with Food Protein-Induced Enterocolitis Syndrome (FPIES), a rare food allergy. As a result, Callum's diet is limited to only 40 foods, which along with his frequent visits to several doctors, has led to incredibly high expenses for his care. On top of the financial burden, Alaina has stopped working in order to care for Callum, leaving Erik as the sole breadwinner for the family. All of this results in a long list of expenses that the Hambrecht's have been challenged to cover on their own. In addition to managing Callum's medical condition, Erik, a military veteran, has residual issues from his time in the service. The family is working tirelessly to manage the emotional and financial complications that this has caused. CPBC's goal is to help the Hambrecht Family by easing the burden of Callum's medical care costs.
You can support the CPBC's goals by making a tax-deductible contribution by:
For additional information, visit www.chicagopolarbearclub.com.
Source: www.chicagopolarbearclub.com