Freedom Hall Nathan Manilow Theatre Announces 2010-2011 season.
(PHOTO SUPPLIED)
Main Series
Kenyan Safari Acrobats Friday, October 15, 8 p.m. The Kenya Safari Acrobats offer a truly unique cultural experience. Hailing from the heart of Africa, this awe-inspiring and dynamic dance troupe takes acrobatics to exhilarating extremes performing a non-stop ride of gravity-defying human pyramids, tumbling, limbo dancing, hurling through hoops and breathtaking contortions, all while clapping to a joyful Benga beat! "This is a must see!"- Chicago Tribune; "They were simply astonishing!"-Press-Register, Mobile, Alabama
http://www.eastcoastentertainment.com
Marcya Daneille Featuring Wycliffe Gordon: A Sweet, Soulful Jazz Serenade Saturday, November 13,
8 p.m. Jazz vocalist and Park Forest native Marcya Daneille will perform with featured guest, famed trombonist Wycliffe Gordon, a veteran member of the Wynton Marsalis Septet, accompanied by a quintet of the finest Jazz artists from America. Daneille's debut CD is"Keeping It Simple",her melodious voice has been described as "…the perfect blend of Ella Fitzgerald, Dinah Washington and Sarah Vaughan with a dash of Billie Holiday." Join us for an evening of soulful nostalgia!"
http://www.marcyadaneille.com
http://www.wycliffegordon.com
Peter Mayer's "Stars and Promises" Concert Saturday, December 4, 8 p.m. 2010 marks the 10th anniversary of Peter Mayer's annual celebration of Christmas, "Stars and Promises". In 1999 Peter, singer/songwriter, and the lead guitarist for Jimmy Buffett's Coral Reefer, and his brother Jim Mayer, took carols such as "What Child Is This", "Joy to World", and "Little Drummer Boy", and original compositions such as "Sing Joy" and "This Christmas" and placed them in musical settings that traced their upbringing and musical influences from a childhood in India to their journeys into jazz, rock, folk, and classical directions. The show will feature musical highlights from years past and new compositions and arrangements. Peter will be accompanied by his band, a superb cast of musicians!
http://www.littleflockmusic.com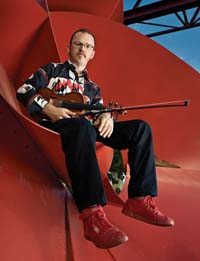 Casey Driessen and the Colorfools February 19, 2011. 8 p.m. If you think you've heard everything that can be done with a fiddle, perhaps you haven't yet heard Casey Driessen. Witness the Grammy nominated, inventive genre-warping fiddler Casey Driessen and his band the Colorfools. He has performed with Steve Earle, Tim O'Brien, Béla Fleck, John Mayer, and countless others. He has released two CD's, 3D, and Oog. "Magnificent" – USA Today; "Monster chops and imagination to match" – Downbeat
http://mongrelm.com
Occidental Brothers Dance Band International Saturday, March 12, 2011. 8 p.m. Occidental Brothers' blend of high-energy soukous, rootsy Ghananian Highlife and African Jazz conjures sounds of the golden age of the African guitar band with a sound that has also seduced an audience of listeners as diverse as the members of this multi-racial band. Led by guitarist Nathaniel Braddock, twice profiled in Guitar Player Magazine, joined by Congolese music legend, the great Samba Mapangala, jazz phenom Greg Ward on alto, Joshua Ramos on bass and Makaya McCraven on drums. OBDBI played the Pitchfork festival in 2008 and then experienced a meteoric rise to the stages of Lincoln Center, the Kennedy Center, to name a few!
http://www.rryder.com
Bonnie Koloc April 9, 2011, 8 p.m. The enduring and versatile voice of Bonnie Koloc has been heard in Chicago since 1968. In time her folk-oriented style merged with jazz and blues. Bonnie continues to pursue her music, performing and recording. She has recorded thirteen albums; most recently "Beginnings" (2009), a CD of selections from early live recordings.
Senior Series
Denny Diamond Tuesday, October 19, 11 a.m. Denny Diamond has delighted audiences across the nation performing his fun and energetic tribute to one of America's favorite singer/songwriters, Neil Diamond, and a mix of songs made famous by artists like Johnny Cash, Roger Miller and others!
War Bonds Tuesday, November 9, 11 a.m. The songs and letters of World War II, a musical journey through the war that redefined the world. "War Bonds is a well crafted work that leaves audiences with smiles and tears."
Nancy Hays Christmas Show Tuesday, December 14, 11 a.m. Audience favorite Nancy Hays and the Robert Benson Ensemble return to share their passion and excellence in a live performance of holiday standards and American holiday classics. Enjoy a reading of familiar holiday stories and prose. The show concludes with a holiday sing along to put you in the mood fro this wonderful season of hope, peace and joy.
Maureen Christine–"People Will Say We're in Love" February 8, 2011, 11 a.m. The ever popular Maureen Christine and band return with an all new musical program featuring the songs of Rodgers, Hammerstein and Hart. Enjoy the favorite melodies including: Grand Night For Singing, Sound Of Music Medley, Something Wonderful and You'll Never Walk Alone.
Banjo Buddies Dixieland Jazz Band Tuesday, March 8, 2011, 11 a.m. Back for an encore performance! With eight albums and over two decades performing around the world, this high-energy Dixieland show band has a unique style of music with a contemporary feel that appeals to all ages. Dixieland jazz to swing, blues, big band tunes presented in a most entertaining fashion!
Mac Frampton Tuesday, April 12, 2011, 11 a.m. A tour de force – from Rhapsody In Blue to Blue Suede Shoes, Mac Frampton redefines the piano with power, precision, and playfulness. After seeing pianist Mac Frampton in concert, you will wonder how is it possible for one man to make so much music, with so much energy, and have so much fun doing it!
Children's Theatre
One Monster After Another Friday, October 22, 7 p.m. Join Child's Play Touring Theatre in this rockin' rendezvous with witches, monsters, ghosts and ghouls. All the thrills and chills of Halloween night are combined with music, mystery, dance and song– a truly rollicking ride to sweep you along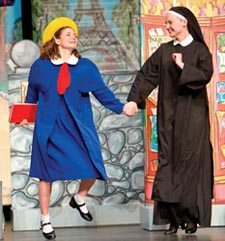 Madeline and the Bad Hat Friday, February 18, 2011, 7 p.m. ArtsPower's Madeline and the Bad Hat, an original musical based upon the much-loved book, captures the blithe yet touching spirit of Ludwig Bemelmans's Madeline series. It traces the adventures of a young Parisian girl who – despite starting off on the wrong foot with a mischievous new neighbor – eventually learns that first impressions aren't everything. This gently amusing tale of enemies-become-friends will charm and entertain children and parents alike.
2010 – 2011 Freedom Hall Series Sponsors
Baxter & Woodman Consulting Engineers
Bimba Manufacturing
Evilena's Red Dresser
Great Lakes Bank
Hammond Investment Management, LLC
Homewood-Star Disposal, Inc
J. Murray & Associates
SouthtownStar