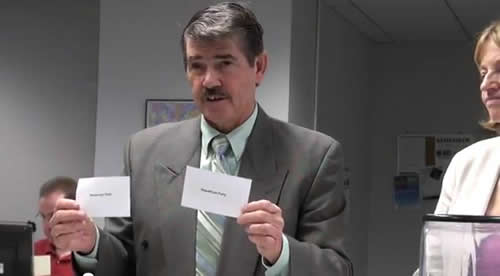 Park Forest, IL-(ENEWSPF)- Park Forest Village Hall will be one of many locations where early voting will be offered for the November 6, 2018, Gubernatorial Election for Cook County residents. Early voting begins October 22 and ends November 5. Any Cook County resident will be able to vote in Park Forest beginning on that date. 
Other Early Voting locations and hours where any Cook County resident can vote can be found here.
The hours in Park Forest will be:
Oct. 22 to 27 | 9 a.m. – 5 p.m.
Oct. 28 | 10 a.m. – 4 p.m.
Oct. 29 to Nov. 2 | 9 a.m. – 7 p.m.
Nov. 3 | 9 a.m. – 5 p.m.
Nov. 4 | 10 a.m. – 4 p.m.
Nov. 5 | 9 a.m. – 5 p.m.
What do you need to Early Vote in Cook County?
According to Cook County Clerk David Orr:
Voters do not need to provide an excuse or reason why they cannot vote on Election Day.
Government-issued photo ID is not required but is helpful if there is a question about the voter's registration, address or signature.  Providing an ID can also speed up the process because there will be ID card readers at every check-in station.
Still need to register to vote? 
You can register to vote at all early vote sites according to the Cook County Clerk's website. NOTE: Any voter who needs to register for the first time or file an address change must present two forms of ID, one of which shows the voter's current address.
More information on Early Voting is here at the Cook County Clerk's website. 
What if I live in Will County?
Will County residents will not be able to vote early in Park Forest. The Will County Clerk's office lists 16 locations for early voting, and many of these depend on where one resides in Will County:
EARLY & GRACE PERIOD VOTING SITES IN WILL COUNTY
All Locations
 Will County Clerk's Office
 City of Naperville
 Fountaindale Public Library
 Governors State University
 Joliet Park District
 Wheatland Township
EARLY VOTING SITES IN WILL COUNTY
 City of Braidwood
 Crete Township (Serving Crete Township residents only)
 Frankfort Township
 Homer Township
 Lockport Township
 Troy Township (Serving Troy Township residents only)
 Village of Channahon (Serving the Village of Channahon and Channahon Township residents only)
 Village of Elwood
 Village of Frankfort (Serving the Village of Frankfort residents only)
 Village of Manhattan (Serving the Village of Manhattan and Manhattan Township residents only)
 Village of Mokena (Serving the Village of Mokena residents only)
 Village of Monee (Serving the Village of Monee residents only)
 Village of New Lenox
 Village of Plainfield (Serving the Village of Plainfield and Plainfield Township residents only)
 Village of Romeoville (Serving the Village of Romeoville residents only)
 Washington Township (Serving Washington Township residents only)