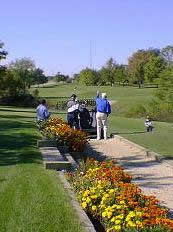 Village Manager Tom Mick confirmed in a telephone interview that the Village Board will discuss the closing of Hidden Meadows Golf Course later this month. "I expect there will be a decision made in November," Mick said, indicating the matter will probably be discussed next Monday, with a resolution calling for the closing of the golf course at the end of this season.
The 2006/2007 Village of Park Forest Budget tells the history of Hidden Meadows:
The Village purchased the course in 1969. In 1994, in order to stimulate the development of an upscale residential development, an additional nine holes(2,000 yards, par 30) were added to the facility. In the fall of 1995, the old south course underwent major renovation. Ten new greens and 20 new tees were constructed, along with modifications to the existing irrigation system. In 1996, this major renovation was completed with expansion of the parking lot and development of the pitching green, the practice sand hitting area and the expanded grass hitting area on the driving range. In addition to golf, the club offers a lighted driving range, an extensive program of youth and adult lessons and other special events.
The board further set two objectives for the current fiscal year:
1. Attempt to enter into a contractual arrangement with the University Golf Club (across the street) to engage the technical services of their Superintendent to handle turf grass management and the application of herbicides and pesticides at Hidden Meadows for the 2006 season.
2. In 2006/2007 the Village will be exploring the Village Board's plan to convert Hidden Meadows into a new residential development for Park Forest.
The budget shows a severe decline in rounds played, from a high water mark of 32,000 in 1997 when both the north and south courses were open together, to 17,087 in 2005. The budget further shows an estimated $151,500 in transfers from the General Fund to Hidden Meadows in 2005/2006.