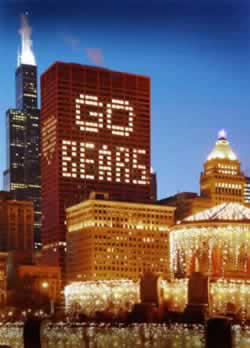 Park Forest, IL–(ENEWSPF)– Bear Down, Chicago Bears, The fight song of the Chicago Bears, was written in 1941, "the year after the Bears had shocked the professional football world by defeating the Washington Redskins in the league championship game by the score of 73-0, which remains the largest shutout margin in any game in the history of the NFL," according to an article on Wikipedia, the internet's free encyclopedia. The author, according to the article, is listed as Jerry Downs, which is a pseudonym for Al Hoffman, a member of the Songwriter's Hall of Fame. Al Hoffman also wrote the lyrics to "If I Knew You Were Coming, I'd Have Baked a Cake," according to an article on Answer.com. The words follow:
Bear down, Chicago Bears! Make every play clear the way to victory!
Bear down, Chicago Bears! Put up a fight with a might so fearlessly!
We'll never forget the way you thrilled the nation with your T formation.
Bear down, Chicago Bears, and let them know why you're wearing the crown
You're the pride and joy of Illinois. Chicago Bears, bear down!
If you would enjoy hearing the tune, then enjoy an external link to Georg Solti and the Chicago Symphony Orchestra performing the song. There's no better time to learn the words if you want to be ready for that Superbowl XLI party.
Go Bears!