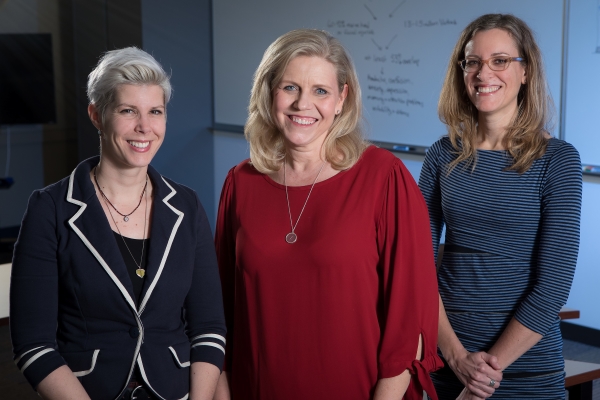 DePaul University neuroscientist collaborates with social work and game design faculty
CHICAGO—(ENEWSPF)—April 27, 2018
Loss of memory, trouble concentrating and an unstable mood are among the indicators of traumatic brain injury and a research focus of Dorothy Kozlowski, a neuroscientist at DePaul University. Kozlowski's research has informed her efforts in Chicago to help kids protect their brains while playing sports.
When a colleague mentioned he does similar work with victims of domestic violence in Arizona, "bells went off" for Kozlowski. Now she is teaming up with faculty from DePaul's social work and game design programs to raise awareness in Chicago about the intersection of traumatic brain injury and domestic violence.
"Survivors themselves don't equate some of the issues they're having with memory or emotionality with the fact that they've probably suffered traumatic brain injury in some way," said Kozlowski, a Vincent de Paul Professor of Biological Sciences and director of DePaul's neuroscience program. She added, "Individuals who suffer from domestic violence also have a high propensity for concussions."
Bringing awareness to Chicago
Sonya Crabtree-Nelson, an assistant professor of social work, and Doris Rusch, associate professor of game design, are collaborators on the project. In early 2018, they organized a conference that drew 120 people into packed sessions, including local police, health care providers, social workers and attorneys. "It was really a diverse group of individuals who care about victims of interpersonal violence," said Kozlowski.
One of the keynote speakers was Jonathan Lifshitz from the University of Arizona College of Medicine, who described how the Phoenix area has implemented screening and care for traumatic brain injury across law enforcement, health care and domestic violence agencies. The big takeaway? Start small, said Crabtree-Nelson, who worked for many years as a clinical social worker in Chicago.
"Usually we're paying more attention to survivors' immediate needs like getting to safety, finding housing and counseling," said Crabtree-Nelson. She said Lifshitz's presentation energized the group in Chicago to think about ways to incorporate screening for traumatic brain injury at the local level. The Chicago Metropolitan Battered Women's Network is a community partner for the project, and executive director Kathy Doherty spoke on the panel discussion about ways to move the work forward in Chicago.
Games deepen understanding of domestic violence
Rusch is bringing her skills as a game designer to the project. She works in the Deep Games Lab at DePaul, creating games that build empathy for people suffering from mental illness and other health issues. Rusch started by interviewing survivors of abusive relationships at a local domestic violence organization, Between Friends. She heard what gave them strength — like holding onto a child's baby sock during courtroom proceedings — as well as how it felt to be trapped in an abusive relationship. "I have some personal experiences with this, and I know it can happen to anyone," said Rusch.
This spring, Rusch and her students will build a game that mirrors the experiences that survivors shared. "The game will be about educating young adults about healthy relationships, as well as the components that lead to an abusive relationship," Rusch said.
She is also designing the game to help remove some of the stigma that survivors experience by showing family, friends and caregivers how it feels to be trapped in an abusive relationship. "Games can help convey complex experiences," said Rusch. "They enable understanding in a powerful way that can create dialogue and discourse," she added.
Moving forward, the DePaul researchers have identified a strong group of local collaborators who will decide what the next steps should be to address the issue. "We're just starting this in Chicago," said Kozlowski. "We're trying to educate those who work with survivors, but in the future we're also hoping to reach those who've suffered abuse themselves … to let them know that some of their symptoms could be caused by traumatic brain injury," Kozlowski said.
Source: www.depaul.edu