Know The Facts First, an STI awareness and education campaign, reaches teens where they are, online and off
Washington, DC–(ENEWSPF)–December 7, 2015.  During yesterday's opening session of the National HIV Prevention Conference, Douglas M. Brooks, M.S.W., the director of the White House Office of National AIDS Policy, announced the launch of the Know The Facts First campaign. The U.S. Department of Health and Human Services Office on Women's Health (OWH), in collaboration with the National Alliance of State and Territorial AIDS Directors and the National Coalition of STD Directors, created the campaign to address the unacceptably high levels of sexually transmitted infections (STIs) among teens.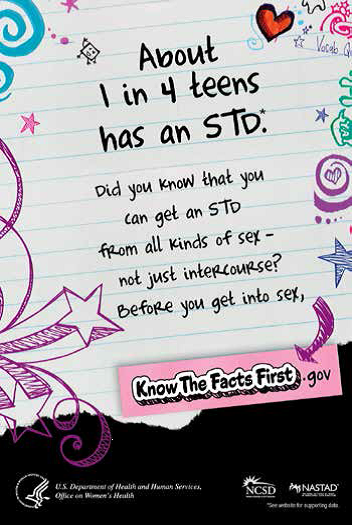 According to data published last month by the Centers for Disease Control and Prevention, reported cases of all three nationally notifiable STIs – chlamydia, gonorrhea and syphilis – have increased for the first time since 2006. Despite being a relatively small portion of the sexually active population, people between the ages of 15 and 24 accounted for the highest rates of chlamydia and gonorrhea and almost two-thirds of all reported cases. Previous estimates suggest that about one in four teens has an STI.
"These statistics clearly demonstrate that young people need more help navigating their way through a healthy adolescence and young adulthood," said Nancy C. Lee, M.D., OWH director. "This includes accurate information about STIs and STI prevention. We created the Know The Facts First campaign to provide this information, including abstinence, to teens."
The Know The Facts First campaign uses several approaches to ensure that teens have the information they need where they already seek information. Print and video public service announcements – tested with teen girls and parents – will be seen in malls, magazines, schools, movie theaters, on television and online. The campaign's website KnowTheFactsFirst.gov contains reliable information about STIs and their prevention, and can be accessed from a smartphone, tablet or desktop. HHS OWH is working with many partners to promote the campaign and to get teens, parents, and adults who work with teens to visit KnowTheFactsFirst.gov.
To learn more, visit KnowTheFactsFirst.gov and follow #KTFF, @girlshealth and @womenshealth on Twitter.
About the Office on Women's Health
The Office on Women's Health (OWH) was established in 1991 as part of the Office of the Assistant Secretary for Health within the U.S. Department of Health and Human Services. OWH works to improve the health of women and girls in the United States through policy, education and model programs. The Office also helps to coordinate women's health efforts across HHS, working collaboratively with federal agencies and external partners to address important women's health topics.
Source: www.hhs.gov