Redistribution of ACA Funds in the New Block Grant Would Lead to $180 Billion Loss for 31 States That Expanded Medicaid and a $73 Billion Gain for 19 Non-Expanding States Through 2026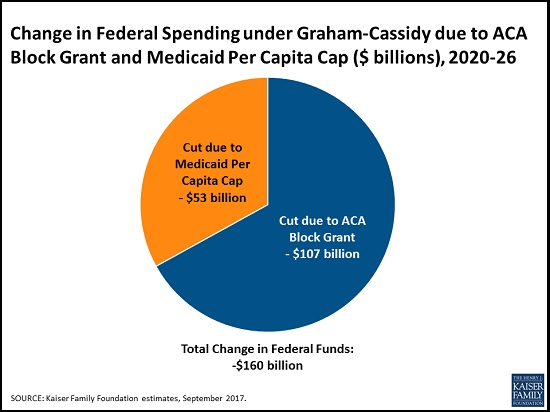 Washington, DC—(ENEWSPF)—September 22, 2017. The Senate is preparing to vote next week on the Graham-Cassidy proposal to repeal and replace the Affordable Care Act and to cap the Medicaid program. A new state-by-state Kaiser Family Foundation analysis finds that the major financing changes in the bill would reduce federal spending by $160 billion over the 2020-2026 period.
In 2020, the new health care plan proposed by Senators Lindsay Graham and Bill Cassidy and others replaces funding for the ACA's Medicaid expansion and individual insurance market subsidies with a block grant program funded through 2026. States would have broad flexibility to use the funds and ability to waive ACA insurance rules, such as prohibiting higher premiums for those with pre-existing conditions, to establish health coverage programs for their residents. The plan would also cap federal funding for the Medicaid program on a per-enrollee basis beginning in 2020.
KFF's state-by-state analysis of the block grant replacing the ACA's Medicaid expansion and insurance subsidies finds that there would be $107 billion less than what the ACA would have provided for during the 2020-2026 period. With the plan's redistribution of ACA funds, a typical Medicaid expansion state would see a 11 percent decline in federal funds while a non-expansion state would see a 12 percent increase.
The redistribution of funding among states would cause some large shifts for particular states. Five states would see a reduction of 30 percent or more for the 2020-2026 period: New York (-35%), Oregon (-32%), Connecticut (-31%), Vermont (-31%) and Minnesota (-30%). Six states would see at least a 40 percent increase in federal funding: Tennessee (44%), South Dakota (45%), Georgia (46%), Kansas (61%), Texas (75%), and Mississippi (148%). In actual dollars, the states with the largest potential loss in federal funds for the same period are California, New York, and Pennsylvania. Texas, Georgia, Tennessee, and Mississippi would see the largest increase in actual dollars.
All federal funds for the proposed state block grants to replace the ACA would cease in 2027 and new congressional action would be needed to continue funding. For 2027 alone, the loss to states in federal funding from current ACA funding and the Medicaid per-enrollee cap would be $240 billion.
Beyond repealing many provisions of the ACA, the Graham-Cassidy plan, like the Better Care Reconciliation Act (BCRA) the Senate voted down in July, would convert the Medicaid program's open-ended federal funding to a capped per-enrollee allotment to most states going forward from 2020. Under the plan, nearly all states would see a decrease in federal Medicaid funding for a $53 billion decline nationally from 2020 to 2026.
While some states would gain funding from the Graham-Cassidy ACA block grant provisions compared to current law, the Medicaid per-enrollee cap proposal would offset some or all of those gains. Ohio, Maine and Louisiana are states where gains under the ACA block grant provisions are fully offset by the Medicaid changes, leading to a net loss in federal funds for these states.
KFF did not estimate the magnitude of the coverage loss that would result from the law, because it is dependent on actions by each of the fifty states that is difficult to predict in advance.
Source: www.kff.org