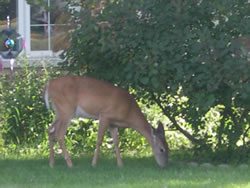 Will County, IL–(ENEWSPF)– The Forest Preserve District of Will County will host public meetings to discuss its proposed plan to manage deer. Meetings are scheduled for:
Tuesday, April 13 at Four Rivers Environmental Education Center, McKinley Woods, 25055 W. Walnut Lane, Channahon; and
Wednesday, April 14 at Lincolnway Central High School, Rosenquist Auditorium (Enter at Door #1D), 1801 E. Lincoln Highway, New Lenox.
Each meeting will be held from 5 p.m. to 8 p.m. and will offer an opportunity for the public to obtain information, ask questions and provide comments. Comments may also be submitted electronically via the on-line form located at: http://www.reconnectwithnature.org.
To view the District's draft deer management plan, visit: http://www.reconnectwithnature.org.
The District recognizes white-tailed deer as an important part of the County's biodiversity, and in taking these measures seeks to secure the health of the deer as well as maintain sustainable natural areas for all plants and species.