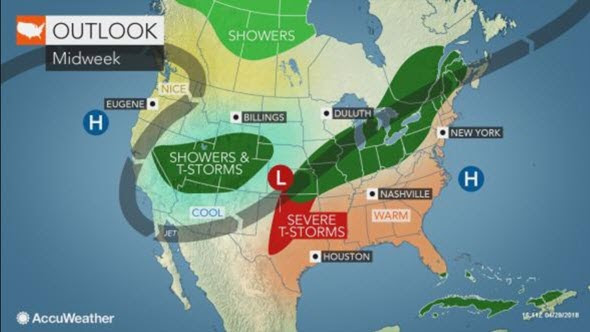 By Renee Duff,
Meteorologist for AccuWeather.com
AccuWeather-(ENEWSPF)- AccuWeather reports the warmth poised to break loose in the northeastern United States this week may leave residents wondering how long the summer weather will stick around.
The pattern this week will bring the warmest stretch of days so far this year to the mid-Atlantic and New England.
People will be able to break out the shorts and t-shirts once again by Tuesday in the mid-Atlantic and Wednesday in New England, with widespread highs in the 70s and 80s F in store.
"Afternoon high temperatures in most locations Wednesday and Thursday will be higher than what occurred during the middle of April," AccuWeather Senior Meteorologist Mike Doll said.
From April 13-14, temperatures in the 70s and 80s were felt across a large portion of the mid-Atlantic, but cool air kept its grip on New England.
The entire Northeast, including New England, will experience the warmup this go-round.
During the second half of the week, temperatures are likely to crack the 90-degree Fahrenheit mark for the first time this year in Baltimore, Washington, D.C., and Richmond, Virginia.
Philadelphia and New York City also have a good shot at hitting this mark.
Daily record highs will be in jeopardy along the I-95 corridor.
In Baltimore, Thursday's record of 91 F dating back to 1913 could be matched or exceeded.
An uptick in humidity will accompany the summerlike temperatures, which will push AccuWeather RealFeel® Temperatures several degrees higher than the actual thermometer reading.
"It will definitely feel like summer," Doll said.
The warmth will come to the delight of outdoor enthusiasts and MLB fans and players who endured many chilly games during the month of April.
However, not all locations will be rain-free during the warm spell.
Showers and locally strong thunderstorms from an approaching storm will scoot across the northern tier, mainly through New York state and New England, late in the week.
Will summer warmth last into the second week of May?
The same system that will trigger multiple days of severe weather over the central U.S. and help to pump the warm air into the East this week will slowly advance toward the Atlantic Coast into next weekend.
Cooler, drier air will sweep in behind the storm.
"What will be different compared to earlier in April is the warmth will not come to an abrupt end with temperatures going from 70s and 80s to 40s and 50s in one day," Doll said.
"Instead, temperatures will lower to near average for early May next weekend as opposed to temperatures more typical of March," he said.
A return of the warmth that will be experienced this week is not expected during the second week of May, as days with temperatures near seasonable levels are projected to win out.