Washington, DC–(ENEWSPF)–October 15, 2015. A new study, published in Environmental Science & Technology, has found that wildflowers bordering fields that are treated with neonicotinoids contain a higher concentration of the bee-toxic pesticides than the actual treated fields, pointing out an often overlooked avenue of exposure for bees. Widely-used neonicotinoids, which as systemic chemicals move through a plant's vascular system and express poison through pollen, nectar, and guttation droplets, have been identified in multiple peer-reviewed studies and by beekeepers as the major contributing factor in bee decline.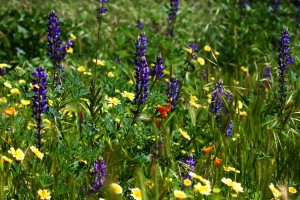 The study, titled Neonicotinoid Residues in Wildflowers, A Potential Route of Chronic Exposure for Bees, discovered neonicotinoid insecticides in wildflowers, including Hogweed and Poppy pollen (up to 86ppb and 64ppb, respectively). The study's authors found higher concentrations of neonicotinoids in wild flowers in field margins than in Oilseed rape flowers in the adjacent neonicotinoid treated crop – on average 15ppb vs. 3ppb. They also found that more than 97% of the neonicotinoids being brought into the hive by honey bees are from wildflowers, while only 3% are from the crop.
Researchers have found that chronic exposure to neonicotinoids increases neuronal vulnerability to mitochondrial dysfunction in the bumblebee. In other words, these pesticides damage the brain cells of bees. Exposed bees will have greater difficulty, for instance, in recognizing the smell of a flower, or how to find their way back to their colony. In June 2015, researchers demonstrated that honey bees exposed to imidacloprid, a toxic neonic, are more susceptible to heat shock. Researchers have also found that bees can become addicted to neonicotinoids in the same way that humans can become addicted to cigarettes. More research can be found on Beyond Pesticides' What the Science Shows page, where studies are listed to highlight the impact of pesticides on these organisms.
Unfortunately, there is evidence that the toxic chemicals affect other pollinators and beneficial insects as well. Earlier this year, researchers from the University of Minnesota presented some of the first evidence linking these bee-killing insecticides to monarch butterfly deaths. The study found that milkweed plants, which monarch butterflies need to survive, may also retain neonicotinoids from nearby plants, making milkweed toxic to monarchs. Environmentalists, beekeepers and activists are increasingly frustrated with the use of these toxic chemicals, as it has been found that neonicotinoid-treated seeds do not reduce crop damage from pests, and that the use of neonicotinoid seed treatments, which are intended to decrease the use of pesticides, can actually increase the necessity of these toxic chemicals by killing off natural, beneficial insect predators.
The implications of the study findings only strengthen the need for meaningful policy change on the federal level. Saving America's Pollinators Act requires the Environmental Protection Agency (EPA) to suspend the registration of all neonicotinoid insecticides that are registered for use in seed treatment, soil application, or foliar treatment on bee attractive plants, trees and cereals until EPA has fully determined that these toxic chemicals do not cause unreasonable adverse effects on pollinators. You can help to protect America's pollinators by submitting a letter to your representative, urging them to support Saving America's Pollinators Act. Let's BEE Protective and support a shift away from the use of these toxic chemicals by encouraging organic methods and sustainable land management practices in your home, campus, or community.
Neonicotinoids are undoubtedly highly toxic to honey bees, and EPA acknowledges this fact. However, little is being done at the federal level to protect bees and other pollinators from these pesticides. With unlimited resources behind them, the chemical industry –the pesticide manufacturers, landscaping, horticultural and agricultural trade groups, have all come out to deflect attention away from pesticides as a major culprit in pollinator decline. To learn more about how industry agents try to manipulate the message to say that neonics are not the main cause, see Beyond Pesticides' report addressing industry myths on pollinator decline.
In light of the shortcomings of federal action to protect these beneficial creatures, it is left up to us to ensure that we provide safe havens for pollinators by creating pesticide-free habitat and educating others to do the same. Beyond Pesticides has created a small pesticide-free garden at our offices in DC to provide habitat and forage for our local pollinators. You too can pledge your green space as pesticide-free and pollinator-friendly. It does not matter how large or small your pledge is, as long as you contribute to the creation of safe pollinator habitat. Sign the pledge today. Need ideas on creating the perfect pollinator habitat? The Bee Protective Habitat Guide can tell you which native plants are right for your region.
All unattributed positions and opinions in this piece are those of Beyond Pesticides.
Sources: Environmental Science & Technology, Buglife, www.beyondpesticides.org