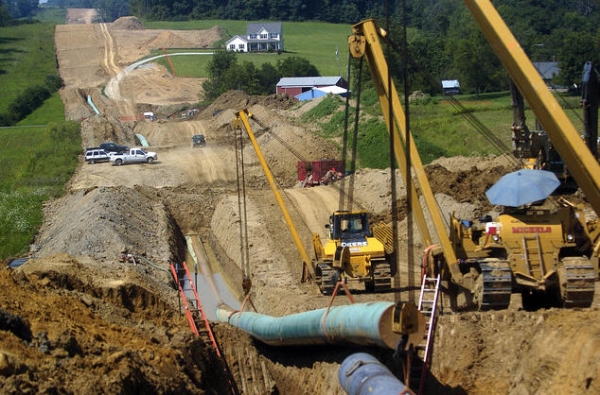 Environmental Advocates File Opening Brief in Push for Full Oversight of ACP
Richmond, VA—(ENEWSPF)—March 26, 2018
By: Doug Jackson
The Sierra Club, represented by Appalachian Mountain Advocates, filed its opening brief last Friday in an appeal to the Virginia Supreme Court. Friday's action was the next step in the Sierra Club's effort to ensure that a deal for fracked gas shipping capacity is reviewed for conflicts of interest.
The Atlantic Coast Pipeline (ACP) presents a conflict of interest because the companies that own the pipeline, including Dominion Resources, also own the utilities that have purchased shipping capacity on the pipeline. These arrangements between corporate affiliates encourage their parent companies to build unnecessary infrastructure – like the ACP – that would likely not be built if those companies had to rely on independent purchasers. As a result of this inter-affiliate agreement, Dominion Resources stands to reap major profits on the ACP, which will be paid for by Dominion's utility customers through increased electricity bills. Virginia's Affiliates Act requires the State Corporation Commission (SCC) to review agreements like these.
The Sierra Club and Oil Change International recently released The Art of the Self-Deal, a report detailing how these arrangements work.
If the appeal is successful, the court will send the question back to the SCC with instructions to review the inter-affiliate agreement under the Affiliates Act and ensure that it does not unfairly burden Dominion ratepayers to the ACP's benefit.
In response, Sierra Club Beyond Dirty Fuels Campaign Director Kelly Martin released the following statement:
"The fracked gas Atlantic Coast Pipeline is not only dirty and dangerous, it's also an  unnecessary cost that will be passed on to ratepayers. Fortunately, Virginia passed the Affiliates Act to address situations just like this one. The State Corporation Commission must, under that law, review Dominion's inter-affiliate agreement before it can take effect and determine whether or not it is in the public interest. This review process is not optional, so we took this case to the Virginia Supreme Court."
About the Sierra Club
The Sierra Club is America's largest and most influential grassroots environmental organization, with more than 3 million members and supporters. In addition to helping people from all backgrounds explore nature and our outdoor heritage, the Sierra Club works to promote clean energy, safeguard the health of our communities, protect wildlife, and preserve our remaining wild places through grassroots activism, public education, lobbying, and legal action. For more information, visit www.sierraclub.org.
Source: www.sierraclub.org