Washington, DC–(ENEWSPF)–December 2, 2014. Last week, the government of Ontario, Canada proposed a plan to reduce the use of neonicotinoid (neonic)-treated corn and soybean seeds by 80% as part of a broad initiative to improve pollinator health. It sets a goal of reducing over-winter honey bee deaths to 15% by 2020, and calls for the development of a comprehensive Pollinator Health Action Plan. To address the regulation of treated seeds, Ontario's pollinator health proposal recommends the creation a new class of pesticides to include seeds treated with pesticides. The government would then restrict the sale and use of neonic-treated corn and soybean seed. In the U.S., EPA establishes the "treated article exemption" (40 CFR 152.25(a)) as limiting its ability to regulate seeds, under the Federal Insecticide, Fungicide and Rodenticide Act (FIFRA), that act as toxic pesticides when applied to agricultural fields and landscapes.
According to EPA, the treated article exemption, "allows an exemption for: An article or a substance treated with or containing a pesticide to protect the article or substance itself (for example, paint treated with a pesticide to protect the paint coating, or wood products treated to protect the wood against insects or fungus infestation), if the pesticide is registered for such use."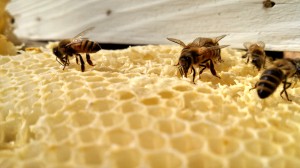 "Improving pollinator health is not a luxury but a necessity," said Glen Murray, Ontario Minister of the Environment and Climate Change. "Pollinators play a key role in our ecosystem and without them, much of the food we eat would not be here. Taking strong action now to reduce the use of neurotoxic pesticides and protecting pollinator health is a positive step for our environment and our economy."
The pollinator crisis has been particularly pronounced in Ontario, as a winter loss survey from 2013-2014 found bee die-offs at 58%, the highest recorded level to date. Of commercial beekeepers surveyed, 56 out of 97 reported mortality rates greater than 50%. In September, Ontario beekeepers filed a class action lawsuit against neonicotinoid producers Bayer and Syngenta, alleging the companies are negligent in the design, sale, manufacture, and distribution of neonic pesticides and this negligence resulted in $450 million in damages to the plaintiffs, Sun Parlor Honey and Munro Honey.
The Ontario government's announcement also follows a report released last year by Health Canada, a federal Canadian agency, which declared the use of neonics in agriculture as "not sustainable." Despite strong language from Canadian regulators, the steps taken at the time only required slight changes to the use of neonics, such as stricter label language and the use of safer dust-reducing seed flow lubricants (most corn and soy seed is coated with neonic pesticides before planting and then mixed with a lubricant like talc that creates a toxic dust in seed planters). These measures were widely criticized by beekeepers as not going far enough to address pollinator poisoning from neonic pesticides. "When the plant grows up, it sucks up the water and the pesticide [on the seed]," said Ontario beekeeper Dave Schuit to the CBC. "So, the whole plant is toxic. When the bees take the pollen, they die. The bees are dying because of the pollen."
Many Canadian officials have expressed similar concern with systemic neonic pesticides, which are persistent in soil, and can be continuously taken up by crops and expressed in pollen, nectar, and guttation (dew) droplets that plants produce. In October, Commissioner Gord Miller, in the Annual Report of the Environment Commissioner of Ontario, called bees the "canary in the coal mine" on neonic pesticides. "All the science is not done, but everything that I have before me. . . suggests to me that this is the biggest threat to the structure and ecological integrity of the ecosystem that I have ever encountered in my life, bigger than DDT, " he further asserted.
An extensive overview of major studies showing the effects of neonics on pollinator health can be found on Beyond Pesticides' What the Science Shows webpage.
Beyond the harm these chemicals cause to honey bees and other pollinators is the fact that they are simply unnecessary to grow crops. A report by the U.S. Environmental Protection Agency (EPA), released this fall, found that coating soybean seeds with neonics provided little to no overall benefits in controlling insects or improving yield or quality of soybean production. Responding to EPA's report, Jay Feldman, executive director of Beyond Pesticides explained, "This report demonstrates, yet again, the need for EPA to ask the very important question of whether a chemical is truly necessary and efficacious before allowing its introduction into the environment. And because EPA defines treated seeds as mostly exempt from federal pesticide laws under the treated article provision, this oversight has allowed a dangerous chemical to be used largely unregulated, wreaking havoc on the nation's pollinators."
Pesticide manufacturers have responded predictably to Ontario's plan, with Syngenta spokesman Chris Davison noting the company is "extremely disappointed" by the proposed decision. Neonicotinoid producers Syngenta and Bayer continue to point to parasitic varroa mites as the main driver of pollinator declines, despite overwhelming scientific data implicating neonics as the leading cause. As the 2013-2014 Ontario winter loss survey noted, "…Varroa mite infestation was not considered to be a significant contributing factor to winter mortality rates in 2014 among the producers surveyed, with very few producers citing mite infestations as a potential cause of loss."
Moreover, last month over 100 scientists called for action on bee-toxic pesticides. In June, a worldwide assessment of systemic pesticides undertaken by an international group of 29 scientists analyzing over 800 peer-reviewed publications recommended increased restrictions on the use of neonics. Although Ontario's restrictions on neonics represent a positive and significant step forward towards protecting pollinators, the proposal falls short of the 2-year suspension instituted in the European Union, which was based on a report citing "high acute risks" to honey bees.
In the United States, beekeepers, scientists, consumer and environmental groups, and concerned residents across the country are waiting on a plan from the Pollinator Health Task Force, which was created as a result of a Memorandum issued by President Obama earlier in 2014. To date, USDA has released funds for pollinator habitat, the Council on Environmental Quality has released new guidelines for creating pollinator habitat around federal buildings and the Fish and Wildlife Service has banned the use of neonic pesticides on National Wildlife Refuges. A sensible response to the continuing decline of pollinators must address the use of neonic pesticides, and encourage the development of least-toxic and organic alternatives. In agriculture, for home pest control, landscape care, and in nurseries, there are effective and economic organic techniques can that be successfully employed.
All unattributed positions and opinions in this piece are those of Beyond Pesticides.
Sources: Ontario Ministry of the Environment and Climate Change News Release, Bloomberg News, http://www.beyondpesticides.org
Photo Source: Anneliese Markle