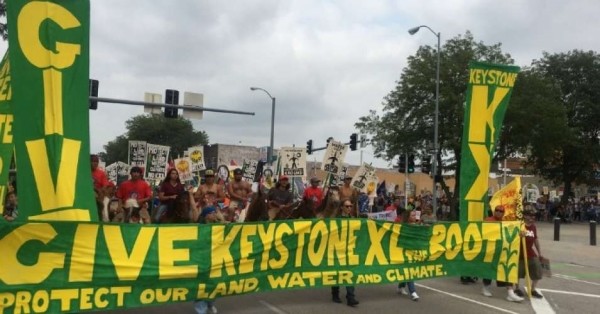 CALGARY, ALBERTA—(ENEWSPF)—January 18, 2018
By: Gabby Brown
Today, Canadian pipeline company TransCanada made an attempt to claim that the Keystone XL pipeline is moving forward by announcing it has sufficient commercial support for the Keystone XL tar sands pipeline. However, TransCanada has still not committed to building the pipeline, and many obstacles remain for the controversial project.
The company's preferred route through Nebraska was rejected late last year by the Nebraska Public Service Commission, which instead approved a different route TransCanada had previously called unworkable. The PSC later rejected TransCanada's motion to amend their application, leaving the project on tenuous legal ground in Nebraska, where landowners continue to fight back against the pipeline. TransCanada also faces legal challenges at the federal level; a lawsuit challenging the State Department's approval of Keystone XL is ongoing in federal court and could take years to be resolved.
Last year, TransCanada was forced to cancel plans for its Energy East pipeline in the face of enormous public opposition and legal challenges.
In response, Sierra Club Beyond Dirty Fuels campaign director Kelly Martin released the following statement:
"TransCanada's announcement today is nothing more than an attempt to distract from the fact that they still face significant headwinds towards ever making their Keystone XL pipe dreams a reality. For eight years, Nebraskans and Americans across the country have fought back and told TransCanada that we do not want their dirty tar sands pipeline. It's time they listened and put this project to rest once and for all."
About the Sierra Club
The Sierra Club is America's largest and most influential grassroots environmental organization, with more than 3 million members and supporters. In addition to helping people from all backgrounds explore nature and our outdoor heritage, the Sierra Club works to promote clean energy, safeguard the health of our communities, protect wildlife, and preserve our remaining wild places through grassroots activism, public education, lobbying, and legal action. For more information, visit www.sierraclub.org.
Source: www.sierraclub.org