Long phase-out of hazardous cars, inadequate speed limits, deficient tanker shells leave communities at risk of catastrophe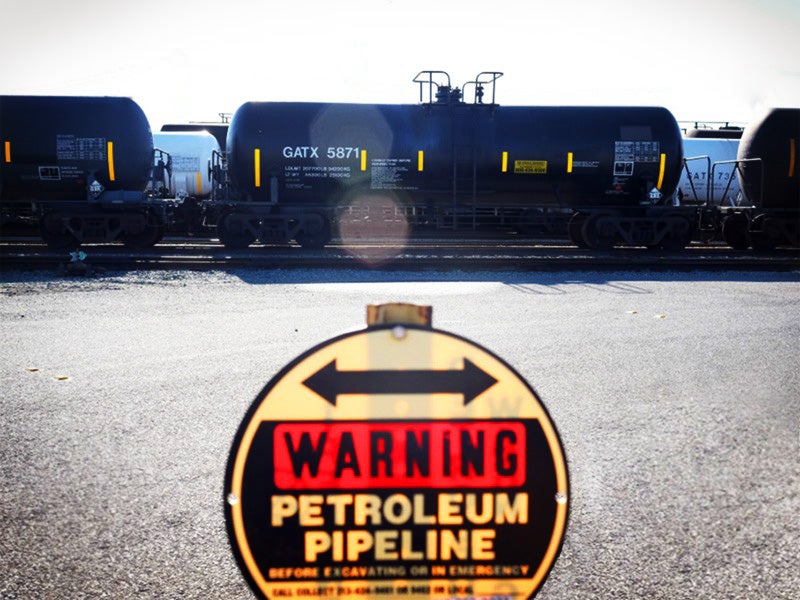 A crude oil train near the Richmond, CA, railyard. Chris Jordan-Bloch / Earthjustice
Washington, D.C. —(ENEWSPF)–May 1, 2015. Today the Department of Transportation (DOT) released long-awaited new safety standards for rail tank cars used to haul volatile Bakken and tar sands crude oil.
Citizens groups Earthjustice, ForestEthics, Oil Change International, Sierra Club, Center for Biological Diversity, Riverkeeper, Waterkeeper, Washington Environmental Council and Natural Resources Defense Council issued a critical assessment of the new rules with statements below:
The new standards call for a phase out over 10 years of DOT-111 and CPC-1232 tank cars commonly used to transport crude oil and known to puncture and explode during derailments. These are the same tank cars that were involved in the steady stream of catastrophic accidents over the last two years, including the Lac Mégantic, Quebec tragedy in July 2013 that killed 47 people and the most recent spate of four major fiery accidents over four weeks of 2015 in West Virginia, Illinois, and Ontario.
The groups continue to call for an immediate ban on these cars, citing the federal agencies' own projections that 15 derailments on mainlines are likely every year. DOT's phase-out period allows the crude oil fleet to more than double before these tank cars are taken out of service, knowingly exposing communities daily to unacceptable risks.
The groups initial analysis identified several specific failures that leave the public at severe risk from oil trains:
The rule fails to remove the most dangerous tank cars off US rails immediately, allowing instead for a 2-1/2 to 5 year phase-out of the oldest DOT-111s, and a phase out that will take a decade for all dangerous tank cars;
Even after this phase out, the hazardous tank cars will still be allowed to ship explosive crude oil in a continuous block of 19 tank cars or fewer than 35 loaded tank cars in a train;
Despite requiring somewhat thicker shells for new cars, DOT will allow retrofitted cars to meet a less protective standard;
While the rule imposes some speed limits for trains in "high threat urban areas," only a few dozen cities around the nation have been so designated—leaving towns, cities, and drinking water sources highly vulnerable;
Inadequate speed limits allow oil trains to run at speeds well beyond the safe limits of even the newer tank cars.
"Allowing hazardous tank cars to remain in crude service for 5 more years is disgraceful," said Patti Goldman, Earthjustice managing attorney. "As the head of the National Transportation Safety Board said two years ago, the DOT shouldn't need a higher body count before we ban these defective cars from carrying explosive fuel through our towns and cities."
"These regulations arrive years late and with the sticky fingerprints of an army of oil lobbyists all over them," says Matt Krogh, ForestEthics Extreme Oil Campaign Director. "25 million Americans live in the oil train blast zone and millions more depend on drinking water that is threatened by an oil train disaster. We don't need extreme tar sands and Bakken crude and these trains are simply too dangerous for American tracks."
"The announced regulations are yet another indication of how dangerous energy policies written by and for Big Oil are for our communities and our climate. These weak regulations allow the industry to continue endangering communities with bomb trains that facilitate hazardous expansion of the oil industry," said David Turnbull, Campaigns Director of Oil Change International. "It's time for some leadership at the Department of Transportation. Secretary Foxx must place a moratorium on this dangerous practice now."
"The Department of Transportation got it wrong with its so-called safety regulations for oil tank cars. Rather than accept these wholly inadequate rules, which jeopardize health and safety of communities along rail lines, the administration should place a moratorium on bomb trains outright," said Lena Moffitt, Director of Sierra Club's Dirty Fuels Campaign. "For years the National Transportation Safety Board has called on the agency to take aggressive action to end the use of arcane tank cars, and communities and elected officials across the country are demanding aggressive action to eliminate the risk to 25 million Americans located in the blast zone. Today, DOT has failed the American public. Until meaningful safety benefits are put in place, communities across the country should not be exposed to volatile crude trains."
"These industry friendly regulations virtually guarantee more explosive derailments, putting people and the environment at great risk," said Jared Margolis, an attorney with the Center for Biological Diversity who focuses on the impacts of energy development on endangered species. "Continuing to allow volatile crude oil to be transported in unsafe tank cars and at speeds that virtually ensure punctures, spills and fires in a derailment is unconscionable. Oil trains should be stopped because of the inherent dangers to the public and wildlife, and their role in climate disruption."
"Beyond the clear shortcomings of the rule's speed limit, design, and phase-out provisions, this rule completely fails to address a host of problems in dire need of attention," said Sean Dixon, Staff Attorney at Riverkeeper, the Hudson River and New York's clean water advocate. "The agency concedes that human error, rail and bridge infrastructure programs, oversight gaps, and outdated spill response planning regulations all contribute directly to the danger posed by ethanol and crude shipments by rail, yet today's rule fails to even identify a framework for addressing these concerns in the future."
"The disappointing new regulations do not mitigate the known threat that oil trains present to our waterways and the communities that depend upon them," said Marc Yaggi, executive director of Waterkeeper Alliance. "Oil trains derail, spill, and explode with frightening regularity, all while passing along and over our waterways. It's time for the federal government to defend and protect our communities and waterways with the same vigor they have shown in promoting the fossil fuel and transportation industries."
"While it's important that the Department of Transportation is recognizing this serious and growing problem, its proposed rules do not do nearly enough to protect millions of Americans at risk of catastrophic oil train derailments," said Anthony Swift, Deputy Director of the Natural Resources Defense Council's Canada Project.
BACKGROUND
The National Transportation Safety Board has repeatedly found that the DOT-111 tank cars are prone to puncture on impact, spilling oil and often triggering destructive fires and explosions. The Safety Board has made official recommendations to stop shipping crude oil in these hazardous tank cars, but the federal regulators have not heeded these pleas. Recent derailments and explosions have made clear that newer tank cars, known as CPC-1232s, are not significantly safer.
The recent surge in U.S. and Canadian oil production, much of it from Bakken shale and Alberta tar sands,, has led to a more than 4,000 percent increase in crude oil shipped by rail since 2005, primarily in trains with as many as 120 oil cars that are over 1.5 miles long. The result has been oil spills, destructive fires, and explosions when oil trains have derailed. More oil spilled in train accidents in 2013 than in the 38 years from 1975 to 2012 combined.
ForestEthics calculates that 25 million Americans live in the dangerous blast zone along the nation's rail lines.
Related Material:
Q&A: Lawsuit Over DOT-111s Carrying Bakken Crude
Map: Crude By Rail Across the United States
Quote Sheet By Officials On The Dangers of Shipping Bakken Crude in DOT-111s
Map: Oil Change International Crude by rail terminals and rail lines
Resource hub (reports, fact sheets, etc.) on crude by rail
Map: Hudson River Schools in Blast Zone
A Tombstone Mentality On Exploding Oil Trains
About Earthjustice
Earthjustice is the premier nonprofit environmental law organization. We wield the power of law and the strength of partnership to protect people's health, to preserve magnificent places and wildlife, to advance clean energy, and to combat climate change. We are here because the earth needs a good lawyer.
Source: www.earthjustice.org