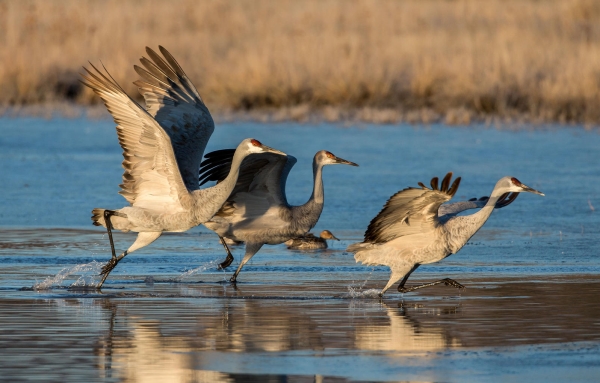 The gift will help Audubon engage its 1.2 million members in creating bipartisan public demand for climate solutions.
NEW YORK —(ENEWSPF)—April 10, 2018
Contact: Nicolas Gonzalez 
"This is a highly strategic and long-needed investment in grassroots mobilization for climate action. We're humbled by this gift and ready to put this money to work. Climate change is the number one threat to birds and this gift from Overlook International Foundation will be the difference in Audubon's ability to engage our 1.2 million members in creating bipartisan solutions," said David Yarnold (@david_yarnold) Audubon's president and CEO in reaction to Overlook International Foundation's gift of $10 million to support the organization's climate change work.
Audubon's unique membership spans the breadth of the political spectrum with 55 percent progressive and 45 percent moderate to conservative members spread among 463 local, bipartisan chapters across the country and 23 state field offices.
"No one is better positioned than Audubon to create a bipartisan public demand for climate solutions. Many of our members are already climate advocates for birds. Now we will have the resources to organize even more of our members and other Americans like them to harness that energy in a focused effort. From South Carolina to Washington to Arkansas, Audubon's trusted local voices matter everywhere," added Yarnold.
"If we are going to make progress on climate—everyone has to come to the table—party affiliations aside. We're running out of time," said Marisa de Belloy, executive director of the Overlook International Foundation. "Climate change can feel like an abstraction—even when extreme weather events tell us how very real it is. Audubon has a unique ability to make climate change personal—everyone has a bird story."
As part of their commitment, OIF has earmarked a portion of this gift as a challenge to Audubon—and will match all new or increased gifts to Audubon's climate work up to $3.33 million.
In 2014, Audubon published its Birds and Climate Change Report. The study shows that more than half of the bird species in North America could lose at least half of their current ranges by 2080 due to rising temperatures. These species include the Sandhill Crane, the Bald Eagle, and the American Kestrel.
Given the urgent threat climate change poses to birds and people, Audubon supports common-sense, bipartisan solutions that reduce carbon pollution at the speed and scale necessary to protect birds and the places they need.
To learn more about Audubon's Climate Initiative, including how members and supporters can take steps to help birds in a changing climate, please visit www.audubon.org/climate. To read about solar options in your state and why solar energy is good for birds, please click here.
The National Audubon Society protects birds and the places they need, today and tomorrow, throughout the Americas using science, advocacy, education and on-the-ground conservation. Audubon's state programs, nature centers, chapters and partners have an unparalleled wingspan that reaches millions of people each year to inform, inspire and unite diverse communities in conservation action. Since 1905, Audubon's vision has been a world in which people and wildlife thrive. Audubon is a nonprofit conservation organization. Learn more how to help at www.audubon.organd follow us on Twitter and Instagram at @audubonsociety.
Source: www.audubon.org