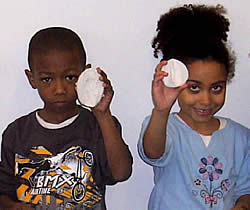 Park Forest, IL–(ENEWSPF)– ME4E will be offering their very popular Keep on Trackin' program on Saturday, March 20 from 1:00-2:30 pm in Park Forest's Wetland Discovery Center. Find out who has been visiting your home by the signs they leave behind. Participants will make a plaster cast of a wild neighbor's track and play a unique bingo game while it dries. Look for actual critter footprints in the Central Park Wetlands too, so dress appropriately. Contact the Recreation & Parks Department at (708) 748-2005 to register for this class. Previous programs have filled quickly. Only $8 per person.
This program will be one of the first in the new Wetland Discovery Center, which is located in the Aqua Center at 30 N. Orchard. The room was made possible with funds from an OSLAD grant the Village received in 2009. The interior of the Aqua Center has been updated, skylights and a solar water heater were added and the addition of the Wetland Discovery Center was all part of the renovation project. A rain garden, expansion of the green rooftop and interpretive signage are also planned for this coming year. ME4E will offer additional programs for schools, groups and individual community members year-round in the Wetland Discovery Center.
ME4E offers unique, customized programs for all ages. They utilize a community's natural areas for hand-on activities while incorporating educational goals and objectives. Various types of learning styles and topics are intergraded into each event. To learn more about the services ME4E provides, visit www.ME4E.org and their Facebook page lists all scheduled programs open to the public, grant opportunities, workshops and tips for personal nature exploration.