Washington, DC–(ENEWSPF)–February 25, 2014. During the Vietnam War, over 10 million pounds of the toxic herbicide Agent Orange were applied from military aircraft to defoliate forests and destroy civilian crops. Outfitted with spraying equipment, UC-123 transport planes played a major role in the American military's campaign to eliminate forest cover for Vietcong fighters. After the war, these aircraft were returned to use in the United States for basic transport operations such as cargo shipping and medical evacuation missions. However, these planes never underwent any form of decontamination or testing before being repurposed for use back in the states. Although the U.S. Air Force and Department of Veteran Affairs have asserted that "dried residues" on these aircraft were not likely to pose a health threat to aircraft crew – a justification used to deny sickened veterans medical support, a new study from the journal Environmental Research finds strong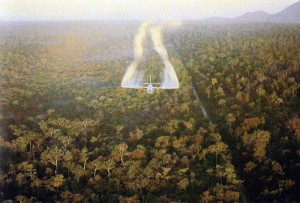 evidence of health risks from residual exposure.
The study, Post-Vietnam military herbicide exposures in UC-123 Agent Orange spray aircraft, modeled flight crew's potential exposure to dioxin, a contaminant in Agent Orange and a highly potent carcinogen. Scientists based their models on monitoring tests that found dioxin contamination in the mid-1990′s and late 2000′s, over 20 years after the planes were first repurposed. Researchers looked at how dioxin volatilizes in the air, and thus rejected the military's presumption that "dried residues" of the chemicals are no longer a concern. "Current Air Force and Department of Veterans Affairs policies are not consistent with the available industrial hygiene measurements or with the widely accepted models for semivolatile organic compounds," the study indicates. Conclusions of the research found that, "Inhalation, ingestion and skin absorption in aircrew and maintainers were likely to have occurred during post-Vietnam use of the aircraft."
Though the Agent Orange Act of 1991 stipulated medical care and disability coverage for sick veterans that served in the Vietnam War and were exposed to Agent Orange, those who flew in contaminated post-war planes were deemed ineligible. Lt. Col. John Harris was originally denied benefits for diabetes after he worked on C-123s for 12 years after the war. He was granted coverage only after finding records that showed he made a refueling stop in his fighter jet during the Vietnam War, according to an article in the Huffington Post. "I'm absolutely positive that I was exposed to Agent Orange and dioxin in that 12-year period," he told HuffPost after hearing about the new study. "I think the VA is lying, cheating and stealing to prove a case that is unprovable." Many who worked on these aircraft are still struggling to find compensation for their illnesses.
In a similar case, a number of Navy veterans who were stationed off the coast of Vietnam are seeking compensation for their wartime exposure to Agent Orange. The servicemen explain that Agent Orange was often stored on board these vessels. In the past the U.S. Department of Veterans Affairs (VA) had allowed these veterans access to medical coverage under the presumption of Agent Orange exposure. However, the military reversed its policy 12 years ago. The Navy vets are suing the VA demanding immediate restoration of their compensation. Pending legislation in Congress, HR543, would do the same.
Past studies have found that U.S. war veterans exposed to Agent Orange developed chronic lymphocytic leukemia, Hodgkin's disease and non-Hodgkins lymphoma, prostate cancer, Parkinson's disease, and diabetes. Many children of exposed veterans have been affected by their parents' exposure to the chemical and show a wide range of symptoms.
Agent Orange was given its name because it was stored in orange striped drums and contained the active ingredients 2,4-D and 2,4,5-T. 2,4,5-T was contaminated with the highly toxic 2,3,7,8-tetrachlorodibenzo-p-dioxin (also called TCDD or simply dioxin) and is now banned. However, 2,4-D is still one of the most widely used herbicides on lawns, school grounds and parks today. It has been linked to cancer, liver damage and endocrine disruption in humans in addition to being toxic to wildlife, pets and beneficial insects. Moreover, previous research from the U.S. Environmental Protection Agency did detect dioxin contamination in a number of 2,4-D herbicide products.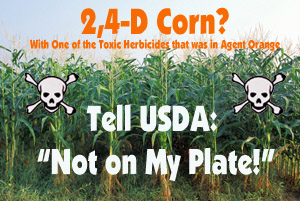 The U.S. Department of Agriculture (USDA) is set to approve new forms of genetically engineered (GE) corn and soybeans designed to be resistant to 2,4-D products. Beyond Pesticides is encouraging concerned residents to provide a public comment to USDA and tell the agency not to approve crops engineered to promote the use one of the active ingredients that was in Agent Orange. Given the health effects associated with 2,4-D, as well as the threat of dioxin contamination, we should be eliminating the use of this chemical as we did with 2,4,5-T. Due to an overwhelming number of comments provided to the agency, the comment period has been extended to March 11, 2014. You can send your comment though this link, and use Beyond Pesticides' 2,4-D crop fact sheet for additional resources when crafting your comment.
For more information about why we should take a precautionary approach to GE agriculture, see Beyond Pesticides' GE webpage. And for additional resources on the health effects associated with Agent Orange, see Beyond Pesticides' past Daily News stories on the issue, or view the Pesticide Induced Diseases Database.
All unattributed positions and opinions in this piece are those of Beyond Pesticides.
Sources: Huffington Post, ScienceDirect, http://www.beyondpesticides.org