Washington, DC–(ENEWSPF)–October 23, 2015. Tests on produce collected by California's Department of Pesticide Regulation (CDPR) for 2014 show high levels of illegal toxic pesticide residues. The CDPR report found 1 percent of produce containing an excess amount of pesticide residues, and an additional 5.5 percent of produce tested contained illegal residues of pesticides that are not allowed for use on that product. Additionally, the data shows residues of a banned chemical, which was taken off the market over 20 years in the U.S. due to health concerns related to farmworker exposure. These findings showcase issues related to system-wide failure in enforcement. Advocates stress that violations may continue to occur due to inadequacies in regulations governing enforcement authorities, which include warnings or low fines for violators. In raising concerns about the safety of food grown with chemical-intensive methods, advocates point to the need to expand the transition to organic agriculture for better protection of public health and safety.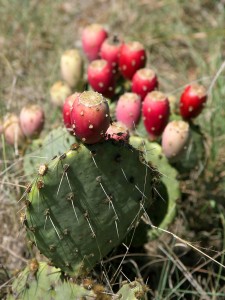 The highest percentage of illegal pesticides was found on cactus pads and cactus fruit imported from Mexico. Some of the other tainted fruit and vegetables include limes, papaya, summer squash, tomatillos, chili peppers, and tomatoes, also from Mexico, ginger imported from China, and U.S.-grown spinach and kale. While over 93 percent of the produce tested contain legal levels of pesticide residue, the data shows a pattern of low dose exposure to hazardous pesticides, such as endocrine disruptors.
Monocrotophos is one of the highly toxic chemicals found in the cactus samples, and is not only a major cause of concern for consumers, who can experience flu-like symptoms from eating large quantities of it, but for the laborers harvesting it. In fact, the U.S. has banned the chemical since 1989, on the basis that it caused farmworker poisoning. Other chemicals found, which either exceeded the set tolerance level or were illegally used, include chlorothalonil, methomyl, dimethoate, thiabendazole, permethrin, and chlorpyrifos. Health effects of these chemicals range from neurotoxicity to cancer, kidney/liver effects, and endocrine disruption. The surrounding community, including the environment, wildlife, and farmworkers, is also greatly affected by these toxic chemicals. A 2004 study detected agricultural pesticides in the homes near agricultural fields. According to a 2010 study, workers experience repeated exposures to the same pesticides evidenced by multiple pesticides routinely detected in their bodies.
The U.S. can set an import tolerance on unregistered pesticide-food combinations when no U.S. tolerance exists. According to the Environmental Protection Agency (EPA), a tolerance (called a Maximum Residue Limit or MRL in Canada and many other countries) is the maximum residue level of a pesticide permitted in or on food or feed grown in the U.S. or imported into the U.S. from other countries. Import firms that buy and sell crops in the U.S. that exceed those maximum residue limits are at risk for fines. Repeat violators face higher fines than first offenders. Unfortunately, EPA tolerances continuously receive exemptions to protect industry leaders. Tolerance levels are sometimes raised based on EPA reviews, even in the case of known toxic pesticides. In 2013, EPA "temporarily" granted an exemption for the banned endosulfan (known to cause endocrine disruption and toxicity to birds and aquatic organisms) on imported Chinese tea. Not even one year ago, Greenpeace discovered that 94% of tea samples from India were tainted with European Union (EU) banned pesticides. That exemption is still in effect today.
According to CDPR, if produce with illegal residues is found, it is quickly removed from the chain of distribution (to prevent it from reaching consumers) and attempts are made to trace it to its source. The tainted lots are quarantined. However, the U.S. General Accounting Office (GAO) in a 2014 report found deficiencies in the Federal Drug Administration's (FDA) monitoring of residues. For imported food, GAO found, "FDA tests relatively few targeted (i.e., non-generalizable) samples for pesticide residues. For example, in 2012, FDA tested less than one-tenth of 1 percent of imported shipments." See also Beyond Pesticides' Daily News on the subject. An earlier 1986 GAO report, Better Sampling and Enforcement Needed on Imported Food, that most foods adulterated with pesticides make their way into commerce and are not recovered. The report found: "(1) the FDA pesticide monitoring program provides limited protection against public exposure to illegal residues in food; (2) FDA samples less than 1 percent of 1 million imported food shipments annually; (3) FDA inspectors at various ports of entry decide the extent to which they apply sample criteria; and (4) FDA uses five multi-residue tests that individually detect many pesticides on a single sample; however, FDA laboratories normally use only one method for each sample. GAO also found that: (1) although FDA policy requires importers to maintain all sampled shipments intact until FDA determines that the product is residue-free, FDA permits importers to release the majority of sampled shipments to U.S. markets before they spoil; (2) of 164 adulterated samples, 73 were not recovered before public consumption; and (3) there were only eight documented cases where FDA assessed importers damages when adulterated food reached the marketplace.
According to CDPR, businesses that violate California pesticide residue laws face loss of their product and also fines. On July 28, 2015, CDPR released a statement announcing recent sanctions for six California import firms who repeatedly violated pesticide regulations. Since December of last year, these six firms have been selling imported products that have been tainted with pesticides not approved for production or sale in the U.S., including DDE (metabolite of DDT), imidacloprid, and endosulfan. The fines for these companies ranged from $10,000 to $21,000. While the CDPR tests California food, Food and Drug Administration (FDA) is responsible for federal food testing. FDA makes testing for pesticide residues on fruits and vegetables for human consumption seem like a top priority; yet, rarely performs their due diligence when it comes to foreign, imported products. That diligence is an important protocol to ensure the safety of humans consuming those crops. As the report by Government Accountability Office (GAO) states, it was found that FDA tested relatively few targeted samples (one-tenth of one percent of all imported fruits and vegetables to be exact) for pesticide residues and furthermore discovered that FDA does not test for several commonly used pesticides with an EPA established tolerance, including glyphosate.
Advocates point to the use of warnings, repeated violations, and low fines as a sign that the current system is failing to protect public health. These producers knowingly, after being repeatedly warned, expose consumers to pesticides that are so toxic that they have been banned for use on these food products. Advocates say pesticide offenses like these need to be met with fines that cannot just be considered a cost of doing business –they must be large enough to cause the businesses to change their practices. These findings also provide proof that banned pesticides are still affecting our food supply.
Pesticide use in conventional agriculture does not just affect consumers. Beyond the impacts that residues of pesticides have on people who eat food grown with chemical-intensive practices, the pesticides used in conventional food production can also have devastating impacts on farmworkers. As the scientific literature confirms, farmworkers, their families, and their communities face extraordinary risks from pesticide exposures. Application and pesticide drift result in dermal, inhalation, and oral exposures that are typically underestimated. As a result of cumulative long-term exposures, farmworkers and their children, who often times also work on the farm, are at risk of developing serious chronic health problems such as cancer, neurological impairments, and Parkinson's disease
Food choices have a direct effect on those who grow and harvest what we eat around the world. This is why food labeled organic is an important choice. In addition to serious health questions linked to actual toxic pesticide food residues, food buying decisions support or reject hazardous agricultural practices, and the protection of farmworkers and farm families. For more information on the health effects of pesticide exposure, see Beyond Pesticides' Pesticide-Induced Diseases Database. For additional information on impacts of food purchasing decisions on the full range of environmental and worker hazards, wee Beyond Pesticides' Eating with a Conscience data.
All unattributed positions and opinions in this piece are those of Beyond Pesticides.
Sources: TakePart, California Department of Pesticide Regulation, www.beyondpesticides.org