By Alex Sosnowski, Senior Meteorologist for AccuWeather.com
AccuWeather-(ENEWSPF)- AccuWeather reports torrential rain, flooding and damaging winds will continue over a large part of southeastern Texas as Harvey stalls and meanders nearby into next week.
Even though hurricane-force winds will cease in the coming hours, the worst impact from Harvey may be yet to come considering the amount and duration of rain in store.
"Harvey is likely to be a multi-billion-dollar disaster," according to AccuWeather Hurricane Expert Dan Kottlowski.
Harvey was a Category 4 hurricane when it made landfall between Port Aransas and Port O'Connor, Texas, on Friday night. Harvey was the first Category 4 hurricane to make landfall in Texas since Carla arrived near Port O'Connor on Sept. 11, 1961. Wilma, in October 2005, was the last major hurricane to make landfall in the United States. Charley, in August of 2004 was the last Category 4 hurricane to hit the U.S. Both Wilma and Charley made landfall in Florida.
Harvey is now a Category 1 hurricane as of 7 a.m. CDT, Saturday.
Extreme impacts are likely from Corpus Christi to Huntsville and Beaumont, Texas, and perhaps as far to the east as Lake Charles, Louisiana. The Houston metro area is likely to experience major problems related to flooding.
Moderate to extreme impacts from rain and wind may extend as far inland as San Antonio and Austin, Texas.
Isolated impacts are likely as far to the south as Brownsville, Texas.
"Even though Harvey will slowly unravel this weekend, it may be still classified as a tropical storm through Tuesday," Kottlowski said.
Rainfall of 10-20 inches will be common. Some locations may receive between 2 and 3 feet of rain. Flooding is likely to extend well beyond urban areas, and may also affect portions of Interstate 10, and I-45.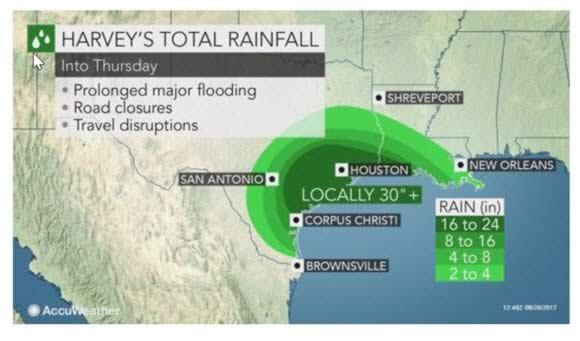 Rainfall of this magnitude will result in long-duration catastrophic flooding, and major travel and commerce disruptions.
Even though rain may taper off or become more sporadic during the middle of the week, some communities may remain under water for days. Rising rivers may lead to new flooding next week in areas spared this weekend. Water levels on the rivers in the region are projected to reach major to record flood stage.
Harvey could leave long-lasting impacts on business across the US
As the soil becomes saturated and trees become waterlogged, ongoing wind gusts of 40 to 60 mph in some areas will cause trees to topple and power outages to increase through the weekend. Some neighborhoods that have power as of early Saturday may yet loose power this weekend.
Beach erosion and coastal flooding will also continue as strong flow of air will continue off of the northwestern Gulf of Mexico.
These conditions could again ramp up if Harvey manages to move back out over the Gulf of Mexico and regain some strength early next week.
People should avoid venturing back to their homes until officials give the all clear.
The number of downed trees and flooded roads may result in long-duration power outages, as crews may not be able to get to all locations in need in a timely matter. That means no lights, no air conditioning and no sump pumps for days and weeks in some cases.
There may be no means of getting fuel for automobiles and generators as power may be out at gas stations or many stations may be out of fuel.
"Shipments in and out of the Texas coastal region may be delayed for weeks primarily due to record flooding, but also, in places, due to extensive wind damage," according to AccuWeather Senior Vice President and Chief Innovation Executive Mike Smith.
"Railroad tracks and highways may have to be rebuilt in places," Smith said.
Water may be contaminated and should be boiled until the all clear is given.
Poisonous snakes, insects and other wild creatures will be displaced and will add to the danger.
The path of Harvey beyond this weekend will determine the magnitude of rain and wind farther east along the Gulf coast and inland over the South Central states.
Should Harvey fail to be steered out of Texas, additional rain may fall on portions of the state through the end of next week.
Long-standing rainfall records will be challenged by this storm.
Related: Downpours To Persist In Florida As Tropical System Lingers Near Southeastern US Coast