Washington, DC–(ENEWSPF)–June 26, 2015. The agency responsible for chemical oversight in the European Union announced today that the antibacterial pesticide, triclosan, is toxic and bioaccumulative, and will be phased-out for hygienic uses and replaced by more suitable alternatives. According to the European Chemicals Agency (ECHA), "[N]o safe use could be demonstrated for the proposed use of Triclosan." This decision has renewed calls for the U.S. Food and Drug Administration (FDA) and U.S. Environmental Protection Agency (EPA) to remove the chemical from the consumer market. EPA in May rejected a consumer petition that asked the agency to ban triclosan.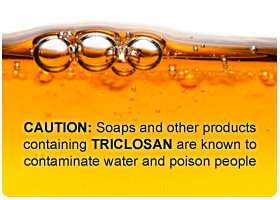 "We applaud this step to protect public health and the environment," said Jay Feldman, executive director, Beyond Pesticides.
The ECHA opinion states that, "Risk was identified for both surface water and for the non-compartment specific effects relevant to the food chain (secondary poisoning)." ECHA believes that any further risk mitigation for triclosan is "not considered realistic."
Triclosan is an antimicrobial pesticide used in cosmetics, personal care products and treated plastics and textiles. It has been linked to hormone disrupting effects, bacterial and antibiotic resistance, cancer, and impacts on aquatic organisms. The chemical's widespread consumer use raises concerns over necessity and efficacy. The Centers for Disease Control and Prevention has found that 75% of the U.S. population contains triclosan in their bodies. Triclosan enters the food chain through use of contaminated water or fertilizer on agricultural crops.
Beyond Pesticides and others have called for a ban of the chemical, citing its hazards to the public and the environment, as well as availability of safe alternatives.
EPA recently issued a long-awaited response to a Citizen Petition filed by Beyond Pesticides and Food and Water Watch in 2010, denying the request to cancel registered products that contain the antibacterial pesticide. The decision allows this toxic substance to continue to be sold nationwide in common household products, from toys, cutting boards, hair brushes, sponges, computer keyboards to socks and undergarments. The agency did, however, grant one request, and will evaluate and conduct a biological assessment of the potential for effects on listed species under the Endangered Species Act (ESA) in the ongoing triclosan registration review.
The cosmetic uses of triclosan, such as toothpaste and liquid soaps, are regulated by the Food and Drug Administration (FDA) and subject to a separate petition for which there has been no response since its filing in 2005 and again in 2009.
Public pressure, led by Beyond Pesticides, has contributed to awareness of the dangers of triclosan's use. Several major manufacturers have taken steps to discontinue marketing of the chemical, including Avon, Johnson & Johnson, Procter & Gamble, and Colgate-Palmolive, which reformulated its popular line of liquid soaps, but continues to formulate Total® toothpaste with triclosan. Furthermore, Minnesota became the first state to ban the toxic antibacterial, announcing that retailers would no longer be able to sell cleaning products that contain triclosan, effective January 2017.
Encourage your local hospitals, schools, government agencies, and businesses to use their buying power to go triclosan-free, or follow the lead of Minnesota by banning triclosan; organizations can adopt the model resolution which commits to not procuring or using products containing triclosan. For additional information and resources on the human health and environmental effects of triclosan, join the ban triclosan campaign and sign the pledge to stop using triclosan today.
Sources: ECHA, www.beyondpesticides.org
All unattributed positions and opinions in this piece are those of Beyond Pesticides