Washington, DC–(ENEWSPF)–April 14, 2015. Last week California released its first guidelines for the management of pests and use of pesticides on cannabis. Cannabis cultivation in California, particularly in the northern areas of the state, has been associated with rampant use of heavy construction equipment and pesticides to clear land and control pests, resulting in contamination and runoff in local streams, and widespread poisoning of non-target wildlife. Although growing cannabis on public lands in the California has always been illegal, private production of the plant in environmentally sensitive sites has gone largely unregulated due the plant's illegal status under federal law, but legally allowed in the state under California's Compassionate Use Act.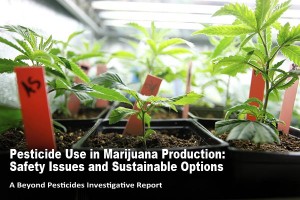 According to Beyond Pesticides' recent report on state pesticide use on cannabis, California was one of six states silent on pesticide use on marijuana. Until now, the only discussion of the issue came from a 2012 report from the California Research Bureau, commissioned by CA Assembly member Linda Halderman, M.D. The report indicated that because no pesticide products were registered for use on cannabis by EPA, and given that applying a pesticide for an unregistered use is illegal under federal pesticide law, the state could confiscate any medical marijuana crop treated with a pesticide. However, it was noted that this conflicts with the state's Compassionate Use Act, which guarantees ill Californians access to medical marijuana. Thus it was determined that growers could simply not spray pesticides in order to avoid potential confiscation. But because the state had not formulated any laws or regulations governing pesticide use on cannabis, the issue remained in a grey area.
The State Water Resources Control Board guidelines, released in coordination with the California Department of Pesticide Regulation, represent a positive step for cannabis production in a state that still comprises comprises nearly 50% of legal cannabis sales nationally. According to the State Water Board, adherence to the pesticide guidelines will be part of requirements for a new permitting process governing cannabis production, which will also cover construction, fertilizer runoff, and diversion of water from local streams. Regarding enforcement, the State Water Board indicates they are "increasing the resources they will devote to investigation and prosecuting cultivation activities that threaten to impact water quality, aquatic life, or wildlife habitat."
Although California's guidelines are similar to those recently issued by Washington State, in that they allow pesticides a) registered by EPA, exempt from a tolerance for food crops, and with generalized label language; or b) minimum risk pesticides with generalized label language, the list of allowed pesticides produced by California is more restrictive than that produced by Washington State. While California's guidelines list 16 allowed active ingredients, Washington State's list includes over 270 products. Further, Washington State's list contains allowances for the synthetic pesticide piperonyl butoxide, which has been linked to numerous adverse human health impacts, including cancer, neurotoxicity, and adverse impacts on liver function.
Although Washington State has approved the use of broad spectrum herbicides prior to the planting of cannabis, California's guidelines says, "We'll add weeds to this compendium when we have more information." It is important that the state require a holistic approach to weed management through least-toxic products.
There are indications from the new guidelines that the state is putting a focus on a systems approach to pest control in cannabis production. The document lists a number of common pests encountered by growers, the damage they can cause, integrated pest management practices that can be taken before the use of pesticides, and pesticides that can be used if IPM practices fail. While not as comprehensive as rules in states like Massachusetts and New Hampshire, which have codified requirements that cannabis growers follow organic practices and create an organic system plan, California's new rules do a good deal to promote a safer trajectory of the state's marijuana industry.
Next, the state must institute a strong system of testing and labeling, to ensure accountability from grower to consumer. See here to read Beyond Pesticides report, Pesticide Use in Marijuana Production: Safety Issues and Sustainable Options.
All unattributed positions and opinions in this piece are those of Beyond Pesticides.
Source: www.beyondpesticides.org