Washington, DC–(ENEWSPF)–June 6, 2016. Even if being a scientist isn't your day job, there are lots of ways to contribute to scientific research about the natural world. From counting monarch butterflies to studying plant growth and tweeting earthquake locations, citizen science empowers the public to help scientists conduct and inform research. And it's making a huge difference!
Here are 5 ways you're helping Interior tackle real-world scientific issues on America's public lands:
Backyard Butterflies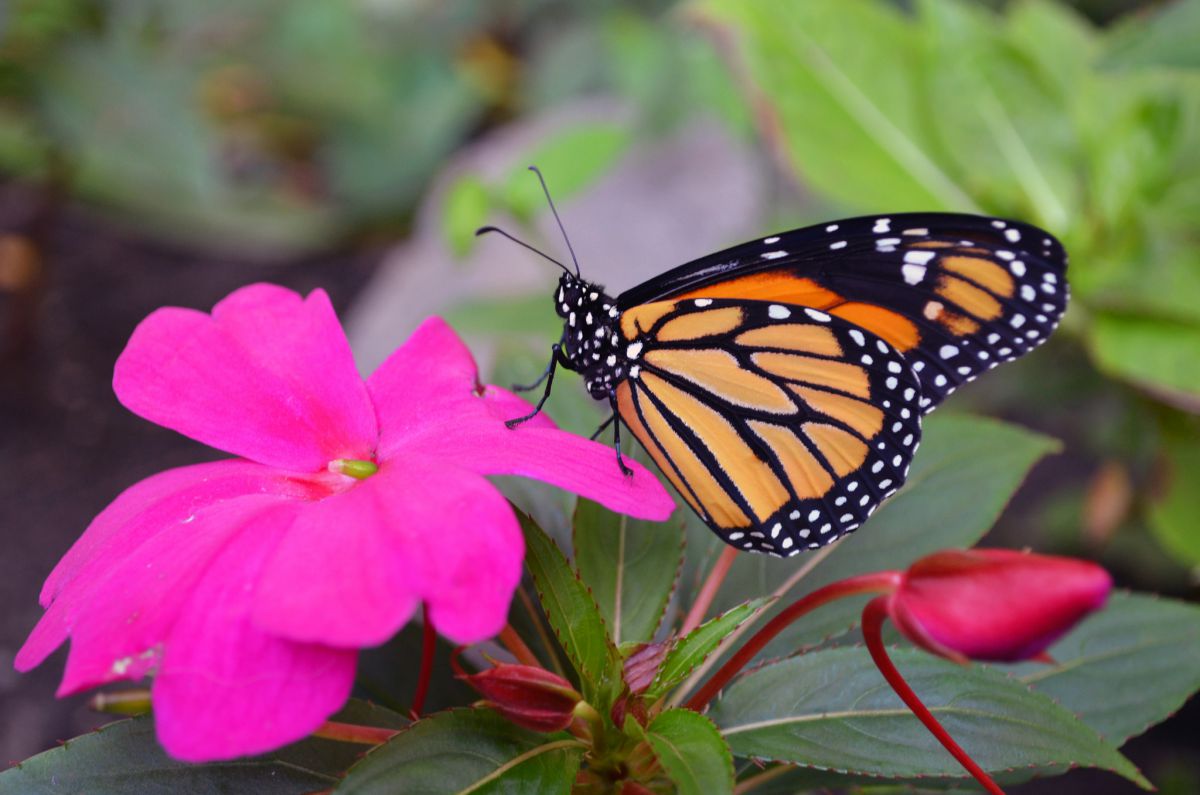 A monarch butterfly atop a pink flower dries its wings after hatching from chrysalis. Photo by U.S. Fish and Wildlife Service.
Monarchs are an iconic backyard species, and they need our help. Populations of these gorgeous orange and black butterflies have been declining for several reasons like climate change, pesticides and habitat loss. At Wolf Trap National Park for the Performing Arts in Virginia, they've replaced some grass lawns with native meadows — large areas of wildflowers and native grasses that are not only beautiful, but serve as important habitat for resident and migrating wildlife, including monarch butterflies.
Thanks to the new meadows, park staff, partners and citizen science volunteers can study butterflies and other pollinators that are critical to successful plant reproduction. During monarch migrations, volunteers tag these incredible butterflies with special stickers to learn more about their movements and habits. By tracking their movements, scientists can better understand and address the issues affecting them. You can help by planting milkweed — monarchs' favorite plant — and joining in a tagging event near you.
Lizards, Porcupines & Plants — Oh My!
Devils Tower National Monument staff holds a porcupine to collect data during the park's bioblitz. Photo by National Park Service.
It's estimated that 80-90 percent of species in parks are undiscovered, and the more information park managers have, the better they can protect parks. National parks nationwide are hosting a "bioblitz,"  where citizen scientists spend a few hours or days documenting park biodiversity — from bugs to botany to birds. It's like a treasure hunt. For instance, a 10-year-old observed a Brahminy Blind Snake at Hawai'i Volcanoes National Park last year as part of a bioblitz — the first confirmed record of the species in the park. How cool is that?
More recently, Devils Tower National Monument in Wyoming held a bioblitz for a cute critter — the North American porcupine. Visitors worked alongside park biologists and scientists from the University of Wyoming, using radio signals to find two porcupines in trees. Groups then looked for tree scars — or chew marks — to see when and how often porcupines used the tree. They also recorded the tree species, size and GPS location. This bioblitz was the capstone to a two-year partnership with the University of Wyoming to collect habitat data on the park's porcupine population, which hadn't been studied before. Along with helping park management better understand how porcupines use the park, visitors gained a new appreciation for this unique animal and an enthusiasm to join future volunteer projects at Devils Tower.
Discovering Seasonal Changes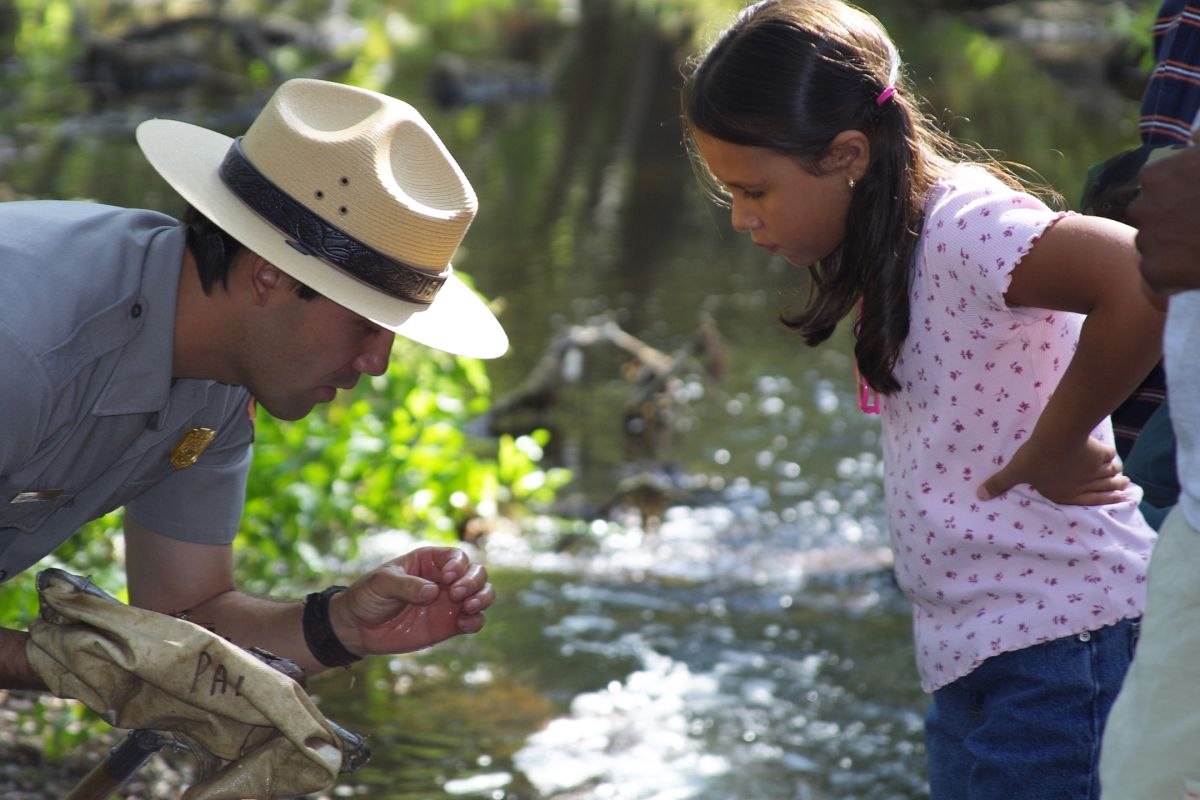 A park biologist shares his discovery of a mayfly in a creek to a young girl. Photo by National Park Service.
When studying how environments change seasonally — called phenology — scientists alone can't collect enough data. Through Nature's Notebook, volunteers on public lands nationwide help scientists better understand ecosystem health by tracking annual changes in plant and animal species, such as what time of year a flower blooms. Over time, these regular observations generate long-term data sets that show useful patterns, like changes to agricultural growing seasons. The information also helps scientists track the effects of climate change. Nature's Notebook has standard how-to instructions and tools for observing and recording information for more than 900 species — making data entry as easy and convenient as using mobile apps on an iPhone or Android.
Tweeting for Earthquakes
U.S. Geological Survey Tweet Earthquake Dispatch from a recent San Francisco Bay area earthquake. Photo by USGS.
When earthquakes strike, the speed of social media helps report information and support earthquake response. Tweets go up in seconds, while scientific alerts can take as long as 20 minutes. As part of their National Earthquake Information Center, U.S. Geological Survey uses Tweet Earthquake Dispatch (called TED for short) to analyze data on social media from people who have felt shaking — collecting information to inform scientific reports. TED (@USGSted) not only collects data, but distributes alerts and updates for earthquakes worldwide.
Birdwatching Across Borders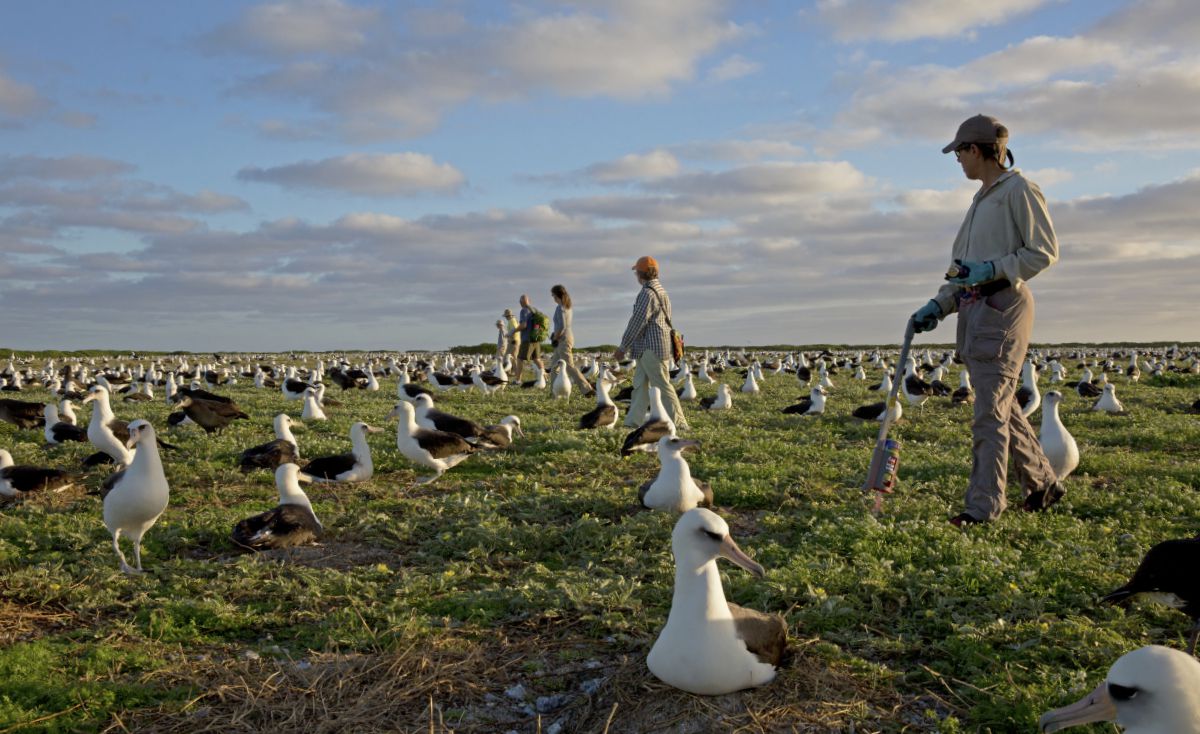 Volunteer albatross counters systematically count nests, resulting in record breaking nest count numbers for the 2015 hatch year. Photo by U.S. Fish and Wildlife Service.
Wildlife doesn't recognize country boundaries, and citizen science can help make it easier to track key species. The North American Breeding Bird Survey is an international effort between the U.S. Geological Survey's Patuxent Wildlife Research Center and Environment Canada's Canadian Wildlife Service to monitor North American bird populations. Each year, thousands of dedicated birdwatchers collect data on more than 400 bird species throughout the continent. Information is used by land managers, scientists and the public to set bird conservation priorities and inform planning. The data also supports research on changes in bird populations like estimating the population size of different bird species.
Source: http://www.doi.gov