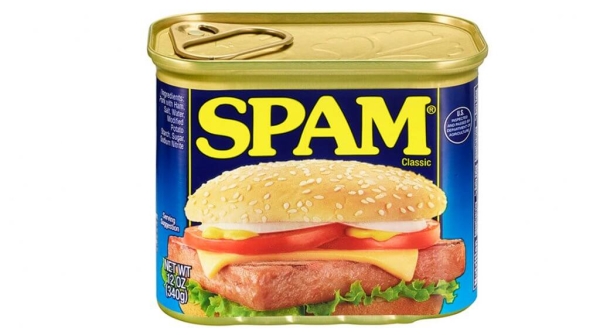 Austin, Minn.—(ENEWSPF)—May 29, 2018
By: Hormel Foods Consumer Engagement
About the recall: From our family to yours, we want you to know that we take consumer and food safety very seriously and apologize to our fans for this situation. Please know this recall only affects a very limited number, 3985 cases, of 12 oz. SPAM® Classic product produced at one facility on one production day. Only this very small amount of product was affected. IMPORTANT: No other sizes, varieties, other packaging configurations, or code dates of SPAM® Classic are included in this recall.
States where the affected product was shipped: AK, AL, AR, AZ, CA, CO, CT, DE, FL, GA, IL, KY, MA, MD, MI, MO, NC, NH, NJ, NY, OH, OR, PA, PR, SC, TN, TX, UT, VA, WI, WV
Please note that the recall does not include any SPAM® products in markets outside of the United States.
Note: SPAM® Classic products shipped to Costco® Wholesale, Sam's Club or BJ's Wholesale Club stores are NOT part of this recall.
Here's everything you need to know to see if your SPAM® Classic is part of the recall.
Step 1: Verify that your SPAM® product is 12 oz. SPAM® Classic. The word "Classic" appears under the "M" in SPAM® on the front of the can. Check the UPC code on the side of the can. If the UPC code is 37600-13872, please continue to step 2.
Step 2: Turn the can upside down. The production code information is on the bottom of the can.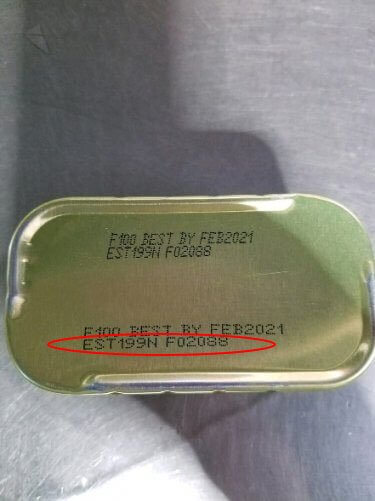 Step 3: If your can has the stamp "EST 199N" and has any of the production codes listed below with a "Best By Feb 2021" date, it is part of the recall.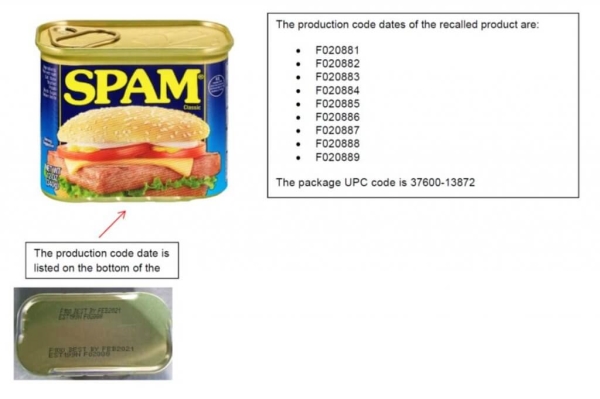 Step 4: You can either return it to the store where purchased for an exchange or call Hormel Foods Consumer Engagement at 1-800-523-4635, 8 a.m. – 4 p.m. Central Time.
We apologize to our fans for this inconvenience. Our company is committed to food safety and will continue to invest in our processes to ensure the quality and wholesomeness of our products.
Additional information relevant to this recall can be found at https://www.fsis.usda.gov/wps/portal/fsis/home.
Source: www.hormelfoods.com