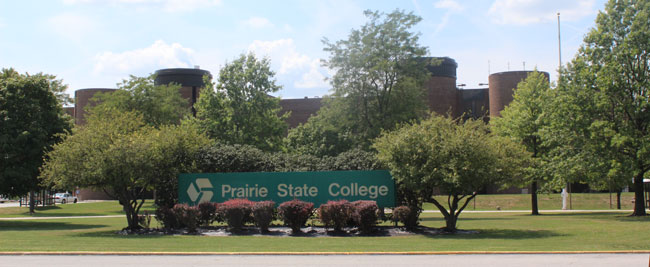 Prairie State College (PSC) honored Maggie Keane, director of the Community Partner Program at Good Shepherd Center, and Kayla Dousias, a community leader in Beecher, Ill., with the 2016 Michael R. Monteleone Community Service Award. The awards were presented at a recent meeting of the PSC Board of Trustees.
The award is named after Monteleone, who served on the PSC Board of Trustees for 21 years. It is intended to recognize a community member or members in the PSC district who have contributed in an extraordinary way to education through community service as either a volunteer or a community leader.
"The Board of Trustees is proud to recognize outstanding individuals, year after year, for their contributions to the college's surrounding communities. The effects of their efforts are felt throughout the whole district," said PSC Board Chair Jacqueline Agee. "Ms. Keane and Ms. Dousias absolutely deserve to be applauded for their commitment to the people of our area."
Keane was nominated for her work with the Community Partner Program over the last 16 years. In her role, she supervises the training for more than 300 child centers and 900 in-home child care providers throughout south suburban Cook County. Keane supervises, researches pertinent topics, arranges and hosts more than 200 trainings each year.
"These trainings all are dedicated to assuring that those who educate young children receive a high quality education themselves to assure they are capable of providing the same for the children," said Brendan McCormick, executive director of the Good Shepherd Center, who nominated Keane for the award.
Keane also has served as the chairperson for the "Strong Children – Strong Communities" conference for eight years. The conference is the largest bilingual conference in the Chicago area, and hosts more than 20 trainings in English and more than 15 trainings in Spanish for the more than 300 people who attend.
"Ms. Keane is an example to all, that the better one is educated, the better their chance for future success in life. She is a shining example of what all of us in the field of education should aspire to in our lives," McCormick said.
Dousias was recognized for her work as a community leader in Beecher, bringing awareness to mental health issues, suicide prevention and fostering positive peer relations.
According to Debbie Rojas, a school social worker with Beecher High School, Dousias, who lost her son to suicide five years ago, "has been a wonderful partner with the Beecher Community School District 200 in reaching students and encouraging them to speak up and bring change to mental health issues."
Among the many things she has done for the community, Dousias organized two different floats for the Independence Day Parade, raised funds to support an annual Character Recognition Scholarship for one male and one female student in the district, and helped support a mental health awareness girls soccer game in the spring. Additionally, Dousias organized the installation of 17 "Buddy Benches" at the three schools in the district, Zion Lutheran School, and the parks in Beecher. According to Rojas, Buddy Benches encourage kids to make new friends to help eliminate loneliness.
"Her passion is infectious and her drive to educate is inspirational," Rojas said. "Her positive efforts have a ripple effect, and there is no telling how far it will reach."
Source: http://prairiestate.edu