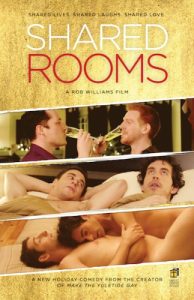 Park Forest, IL—(ENEWSPF)—December 11, 2017
By: Rosemary Piser
The Rainbow Café will screen the movie 'Shared Rooms' on Friday, December 15 at 6:30 p.m. The Rainbow Café is located in the Unitarian Universalist Community Church (UUCC), 70 Sycamore Drive in Park Forest.
'Shared Rooms' explores the meaning of home and family through three interrelated stories of gay men finding connections during the week between Christmas and New Year's Day – a married couple who take in a teenage relative who was kicked out of his home after his parents discovered he was gay; a pair of roommates forced to share a bed for the week, much to the delight (and horror) of the one harboring a secret crush on the other; and two men looking for a quick hookup who end up finding a much stronger connection.
The Rainbow Café is a social event that provides a safe and welcoming environment for single or partnered gay, lesbian, bisexual and transgender adults and their allies, by creating a space where they are able to socialize outside of the usual bars.  The Café is open every 3rd Friday of the month from 6:30 p.m. to 10:30 p.m.
For additional information, call 708-481-5339 or visit www.uuccpf.org.
Source: www.uuccpf.org