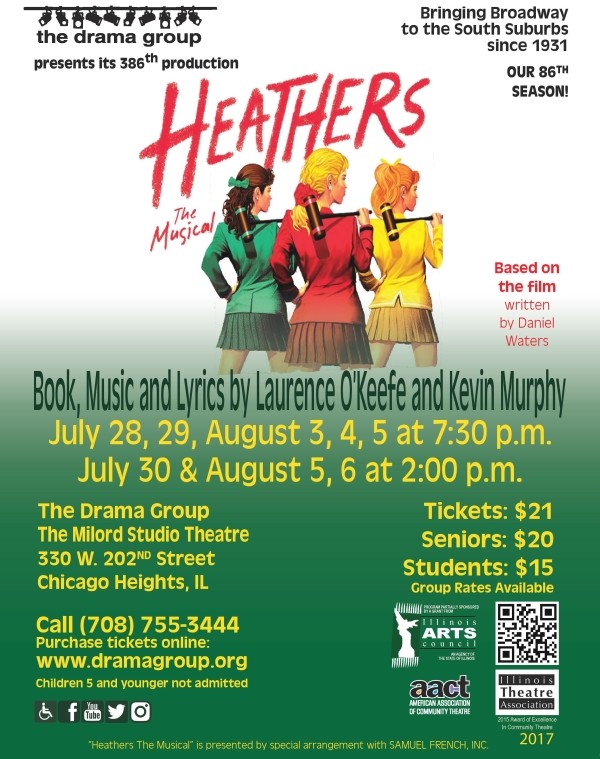 CHICAGO HEIGHTS—(ENEWSPF)—July 7, 2017. The Drama Group is totally jazzed to present the hilariously dark musical comedy, 'HEATHERS, The Musical,' brought to you by the award-winning creative team of Kevin Murphy, Laurence O'Keefe and Andy Fickman (Reefer Madness, Legally Blonde and Desperate Housewives); and directed by the dynamic duo of Curt & Tammy Lang. Performances will be held at The Drama Group's Milord Studio Theatre on July 28, 29, August 3, 4 & 5 at 7:30 pm and matinees on July 30, August 5 & 6 at 2:00 pm.
Tickets are $21 for adults; $20 for seniors and $15 for students with ID. Group discount rates are also available.  Good seats are still available.  Tickets can be purchased by calling the Box Office at 708-755-3444 or online http://www.brownpapertickets.com/profile/242073
The Drama Group's Milord Studio Theatre is located at 330 W. 202nd Street in Chicago Heights. For directions and other information regarding Drama Group activities, please visit our Website   www.dramagroup.org
ADULT THEME AND LANGUAGE
SYNOPSIS – 'HEATHERS, The Musical
''Heathers, The Musical' is the darkly delicious musical of teen love and angst with an 80's rock beat. A brainy, beautiful teenage misfit hustles her way into the most powerful and ruthless clique at Westerberg High: the Heathers, but is pressured into acts of cruelty…until her boyfriend helps her get revenge
'Heathers The Musical' is a hilarious, heartfelt show based on the most twisted teen comedy of all time. With its moving love story, laugh-out-loud comedy, and unflinching look at the joys and anguish of high school, Heathers will be the most popular new musical this summer. Are you in, or are you out?
'HEATHERS: The Musical' Cast & Crew

| | | |
| --- | --- | --- |
| NAME | CHARACTER | CITY/STATE |
| Jenna Rapisarda | Veronica | Evanston, IL |
| Isabella Andrews | Heather Chandler | Northbrook, IL |
| Chloe Jancosek | Heather McNamara | Munster, IN |
| Alexandria Irby | Heather Duke | Frankfort, IL |
| Tucker DeBolt | Ram Sweeney | Homewood, IL |
| Aimee Jarzembowski | Ms. Fleming | Chicago, IL |
| Jimmy Poyton | J.D. | Hickory Hills, IL |
| Courtney Foschi | Martha Dunnstock | Frankfort, IL |
| CJ Butler | Kurt Kelly | Olympia Fields, IL |
| Nate Krug | Ram's Dad/Veronica's Dad | Chicago, IL |
| Curt Lang | Kurt's Dad/Big Bud Dean | Monee, IL |
| Justin Daily | Ensemble | Mokena, IL |
| Rachel Egan | Ensemble | Frankfort, IL |
| Hope Lang | Ensemble | Monee, IL |
| Zoe Branch | Ensemble | Homewood, IL |
| Christian Mayo | Ensemble | Homewood, IL |
| Dillon Ruzich | Ensemble | Frankfort, IL |
| Delaney Schmidt | Ensemble | Frankfort, IL |
| Becky Valek | Ensemble | LaGrange, IL |
| Jake Welker | Ensemble | Frankfort, IL |
| Rafael Wilson | Ensemble | Alsip, IL |
| | | |
| Production Crew | | |
| Tammy & Curt Lang | Directors | Monee, IL |
| Desiree Mikols | Choreographer | Frankfort, IL |
| Hope Lang | Assistant Director | Monee, IL |
| Kaleigh Jerkatis | Musical Director | New Lenox, IL |
| Curt Lang | Scenic Design | Monee, IL |
| Rick Keeley | Lighting & Sound Design | Chicago, IL |
| Tammy & Hope Land | Costumes, MakeUp & Hair Design / Props & Decor | Monee, IL |
| Michael DePriest Reed | Lighting Tech | Robbins, IL |
| Tina Zagone | Marketing / Publicity | Olympia Fields, IL |
| Diane Kaffka | Publicity Photos | Tinley Park, IL |
| Karen Forsythe Photography | Headshots / Show photos | Homewood, IL |
Source: http://dramagroup.org