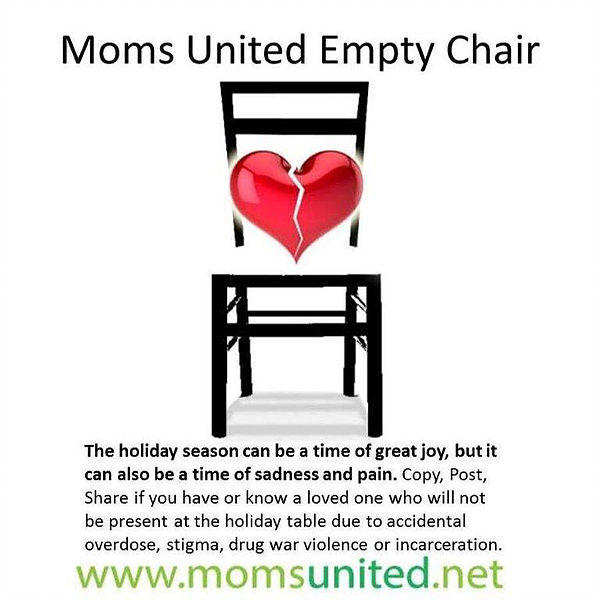 Failed War on Drugs has Resulted in: Incarceration, Overdose Death, Stigma, Drug War Violence
San Diego, CA –(ENEWSPF)—November 22, 2017
By: Gretchen Burns Bergman
This holiday season A New PATH  and moms from across the globe share their stories of loss while calling for an end to the war on drugs – which has been so disastrous for tens of millions of families. Mothers from the Moms United to End the War on Drugs global campaign are speaking out about the devastation caused by punitive prohibitionist drug policies.
Since 2012 Moms United has gathered photos featuring a chair with a picture of a lost or missing loved one, and a sign with one of these titles: incarceration, accidental overdose, drug war violence, stigma. These photos are part of a growing collection of personal stories of loss. Moms United has also created a moving and poignant video featuring these haunting pictures.
Leaders of the Moms United campaign from around the country, who have been personally impacted by the Drug War include: Gretchen Burns Bergman (California), founder of A New PATH, Moms United lead organizer and the mother of two sons who have struggled with heroin addiction and incarceration; Julia Negron (Florida), a mother whose son served several prison terms for drug possession; Charmie Gholson (Michigan), Director of Michigan Moms United, Diane Goldstein (California), a member of Law Enforcement Against Prohibition; Yolande Cadore (New York) drug policy reform activist; Sharon Ravert (Georgia) a mother, author and business owner; Karen Garrison (Washington D.C.), founder mommieactivist and a mother whose sons were falsely incarcerated.
The holidays are a particularly painful time for families – whether they are separated because of incarceration, lost on the streets due to drug problems, in danger because of drug war violence, or have lost a loved one to accidental overdose. Their stories are testimony to drug war damage:
"For 11 1/2 and 13 1/2 years my twin sons were incarcerated.  No matter how festive I tried to make it, no holiday was ever the same without my sons at the table." Karen Garrison
"Thanksgiving is in the month my son died of an overdose. There will always be an empty seat at our table. We give thanks for the 19 years of memories of our beautiful boy."   Sarah Couper
"I recall driving 4 hours to visit my son in prison for a past Thanksgiving. He was serving time for drug possession. The processing time took so long that we never got that visit. He waited in his sally-port on the other side, while we waited at our assigned table for that precious few minutes with my son. That seat remained empty."     Julia Negron
"I have painful memories of holidays when my son was absent because he was locked behind bars for drug use, and of family celebrations when one of my sons wasn't included because he was lost in the maze of his addiction."          Gretchen Burns Bergman
Moms United asks mothers and others to take action during this holiday season in three ways:
Share the empty Chair Video:
(Video Source: https://www.youtube.com/watch?v=lThIfJgf6mY&feature=share&list=UUUYlhA7-vixU2cphfDmuvQw)
Use our "Empty Chair" logo as your Facebook profile from Thanksgiving through Christmas:   https://www.momsunited.net/empty-chair-logo
Follow and share the campaign on Facebook, Twitter and other networks.
Moms United to End the War on Drugs  is a project of San Diego-based A New PATH  (Parents for Addiction Treatment and Healing), a 18-year old nonprofit organization that works to reduce the stigma associated with addictive illness through education and compassionate support, and to advocate for therapeutic rather than punitive drug policies. The international Moms United campaign works to end the violence, mass incarceration and accidental overdose deaths that are a result of current punitive and discriminatory drug policies. They are building a movement to stop the stigmatization and criminalization of people who use drugs or who are addicted to drugs.
Source: Moms United to End the War on Drugs