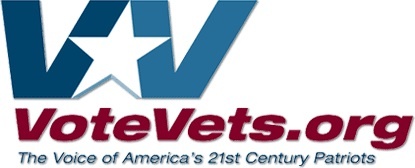 Washington, DC –(ENEWSPF)—December 1, 2016.   The head of the largest progressive group of veterans in America released the following statement regarding names rumored to be in the mix for VA Secretary in a Trump administration.
Jon Soltz, Iraq War Veteran and Chairman of VoteVets.org said:
"The only person less qualified to head the VA than Scott Brown and Pete Hegseth is Sarah Palin.  Donald Trump should be embarrassed to consider any of them for the job, but it seems that his respect for veterans and their wellbeing is about as fake as we saw during the campaign.  A man who thinks it is proper to mock POWs, and "always wanted the Purple Heart" has no respect for those who served.

Pete Hegseth has been pushing a plan to slowly kill off the VA through privatization; casting veterans into the cold, to deal with the private, for-profit system with vouchers.  That plan is opposed by strong majorities of veterans, in scientific polling, and by the major Veterans Service Organizations.  He was such a disastrous head of Concerned Veterans for America, that the Kochs let him go and replaced him.  Someone who isn't good enough for even the Koch Brothers should not be in charge of helping veterans.

Scott Brown failed as a Senator in Massachusetts, and failed when he tried move to another state, to become their Senator. Now, out looking for a new job, Brown is already stating he's ready to outsource veterans care to the for-profit, private sector, which is a non-starter.

Sarah Palin, the former half-term governor of Alaska, saw her short administration marred by ridiculously petty revenge schemes, known there as "Troopergate," while her time as Mayor of Wasilla saw the town come to be known as the "Meth Capital of Alaska."  The last thing that Sarah Palin should ever touch is the Department of Veterans Affairs.

The VA has some real issues to tackle, but it is going to take serious people.  That isn't Pete Hegseth, Scott Brown, or Sarah Palin.  If one of them is the nominee, we will know that Donald Trump is still the same man who lobbied New York to kick veterans working as vendors off the street in front of Trump Tower."
BACKGROUND:
Pete Hegseth and the Koch Brothers' Funded Concerned Veterans for America Pushed a VA Privatization Plan: http://bridgeproject.com/app/uploads/Concerned-Veterans-for-America-Report.pdf
Polling Shows STRONG Majorities of Veterans Oppose Privatizing VA Health Services: http://www.vetvoicefoundation.org/press/new-bi-partisan-poll-of-veterans-shows-they-oppose-privatization-or-voucherization-of-va-care
Hegseth Separated From CVA, Amid Rumors of Acrimony: http://www.militarytimes.com/story/veterans/2016/01/20/cva-hegseth-leadership-changes/79055814/
Scott Brown Says He Would Outsource VA Duties to For-Profit Sector: http://thehill.com/homenews/administration/307094-former-gop-sen-scott-brown-under-consideration-to-lead-va
Sarah Palin's Short Stint as Governor Was Marred by "Troopergate": http://abcnews.go.com/Blotter/story?id=6004368
Under Sarah Palin, Wasilla Was Named the "Meth Capital of Alaska": http://juneauempire.com/stories/030805/sta_20050308002.shtml#.WEA86PkwiUk
Founded in 2006, and backed by over 450,000 supporters, the mission of VoteVets.org is to use public issue campaigns and direct outreach to lawmakers to ensure that troops abroad have what they need to complete their missions, and receive the care they deserve when they get home.  VoteVets.org also recognizes veterans as a vital part of the fabric of our country and will work to protect veterans' interests in their day-to-day lives.   VoteVets.org is committed to the destruction of terror networks around the world – with force when necessary – to protect America. While non-partisan, the group is the largest progressive organization of veterans in America.
Source: www.votevets.org