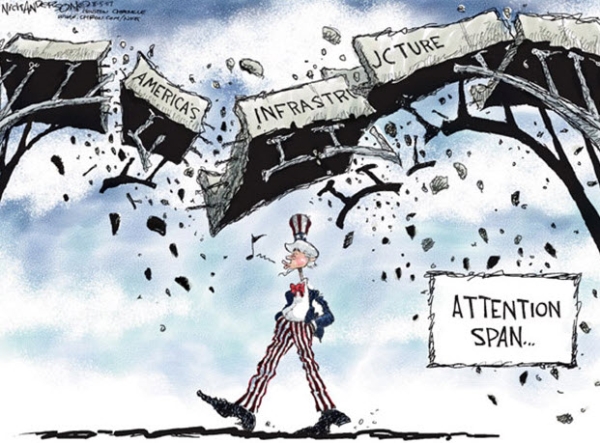 Environmental Protection Rollback Bill Disguised as Infrastructure Investments
WASHINGTON, D.C. —(ENEWSPF)—February 12, 2018
By: Adam Beitman
Today, Donald Trump released a plan to roll back environmental protections and privatize public works projects under the guise of an "infrastructure" proposal. Previous Washington Post reporting on the White House proposal exposed Trump's aggressive efforts to gut environmental protections in an effort to make it easier for corporations to build dangerous pipelines and other environmentally destructive projects.
In addition, the plan would:
Sell off public lands to the fossil fuel industry and other special interests in order to finance its limited spending program.
Be a huge handout to Wall Street banks, whose privatization of roads, bridges, water systems and other public assets will require charging Americans big tolls and fees.
Give the Secretary of the Interior the ability to unilaterally authorize the construction of pipelines in our National Parks and public lands, rather than Congress.
Fails to include provisions that secure prevailing wages for workers and omits provisions to encourage and prioritize domestic-manufacturing.
The overwhelming majority of delay in infrastructure projects is due to inadequate funding, and this scam plan will only make that worse.
In Response, Sierra Club Executive Director Michael Brune released the following statement:
"This is a bill designed to eliminate environmental protections and fork over billions in taxpayer dollars to big corporations that has been dressed up as an 'infrastructure proposal' to trick the public. This is not a serious proposal to make the investments America's infrastructure needs — this is a scam designed to gut clean air, water, and wildlife protections, transform public highways and bridges into privately owned toll roads, and sell off America's public lands.
"When the Trump administration and its Republican allies in Congress use terms like 'streamlining' and 'permitting reform,' what they are really saying is that they want to eliminate clean air and water safeguards, sidestep worker protections, and cut public participation when important decisions are made.
"Americans know that improving our infrastructure doesn't have to come at the cost of clean air and clean water. Without bedrock environmental safeguards like the Clean Air Act, Clean Water Act, Endangered Species Act, and National Environmental Policy Act, the federal government could rubber stamp permits for corporations to build dangerous pipelines, toxic waste dumps, and other destructive projects.
"In stark contrast, Congressional Democrats have laid out the principles for an infrastructure program that would actually begin to address the major funding shortfalls that are the root cause of the sad state of our nation's infrastructure."
###
About the Sierra Club
The Sierra Club is America's largest and most influential grassroots environmental organization, with more than 3 million members and supporters. In addition to helping people from all backgrounds explore nature and our outdoor heritage, the Sierra Club works to promote clean energy, safeguard the health of our communities, protect wildlife, and preserve our remaining wild places through grassroots activism, public education, lobbying, and legal action. For more information, visit www.sierraclub.org.
Source: www.sierraclub.org