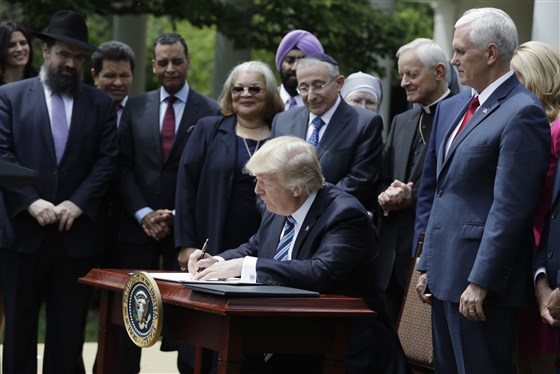 Washington, D.C. —(ENEWSPF)—April 3, 2018
By: Sharita Gruberg, Frank J. Bewkes, Elizabeth Platt, Katherine Franke, and Claire Markham
Obama-era rules prohibiting discrimination in dozens of federal programs could be undermined by the Trump administration's controversial guidance on religious liberty, according to a new report from the Center for American Progress and Columbia Law School's Public Rights/Private Conscience Project.
The report's authors identified at least 87 regulations, 16 agency guidance documents, and 55 federal programs and services funded by taxpayer dollars that could be undercut by the October guidance issued by Attorney General Jeff Sessions. These include programs that provide health care, shelter, foreign aid, and assistance to victims of violence as well as veterans.
From unfair treatment to outright exclusion, the Trump administration has misinterpreted religious liberty in a way that harms the fundamental rights of women, LGBTQ people, and religious minorities. Under the new guidance:
LGBTQ survivors of domestic violence could be turned away from federally funded domestic violence shelters.
Organizations contracting with the government could force any unaccompanied LGBTQ immigrant children in their care into conversion therapy.
A government contractor could cite a religious belief as a reason to refuse services without risking the loss of federal funding—for example, not housing LGBTQ youth under federal programs.
Hospital workers could refuse to provide emergency contraception to sexual assault survivors by claiming that it conflicts with a religious belief.
Clinics abroad that are funded by the U.S. government could refuse to treat LGBTQ people living with HIV.
"This guidance is a deliberate attempt to undermine the legal rights and dignity of LGBTQ people," said Sharita Gruberg, associate director of the LGBT Research and Communications Project at the Center for American Progress and co-author of the report. "It uses the guise of religious liberty to advance discrimination."
"Jeff Sessions' guidance document, which dramatically misinterprets religious exemption law, is already being used to limit access to reproductive health care," said Elizabeth Reiner Platt, director of the Public Rights/Private Conscience Project and co-author of the report. "As agencies continue to implement it, the guidance threatens to limit enforcement of an enormous range of health, employment, and anti-discrimination protections."
Religious liberty is a foundational American value. The Trump administration is abusing religious exemptions and disregarding the First Amendment's prohibitions against the government preferring particular religious viewpoints. This guidance would allow federal officials, service providers, and corporations to use their religious views to infringe on the rights of others.
President Donald Trump's ideologically motivated appointees are likely to carry out this guidance across the federal government by issuing new rules, reinterpreting existing rules, or reallocating federal funds to faith-based service providers. At the same time, rather than upholding the rights of LGBTQ people and women, Sessions has directed Justice Department lawyers to defend those who would cause harm to third parties.
Read the report: "Liberty and Justice for a Select Few: Jeff Sessions' Guidance on Religious Liberty Is Promoting Discrimination Across the Federal Government" by Sharita Gruberg, Frank J. Bewkes, Elizabeth Platt, Katherine Franke, and Claire Markham.
Source: www.americanprogress.org