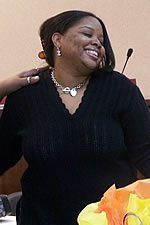 Commentary
By Gary Kopycinski
I was horrified to learn this morning that representatives of the Westboro Baptist Church plan to protest the funerals of Connie Woolfolk and Sarah Szafranski tomorrow. Connie and Sarah are two of five women murdered at the Lane Bryant Clothing Store Saturday morning in Tinley Park.
A friend emailed, saying she heard the news on WCPT 820 AM. According to the email, "Their convoluted explanation is that Lane Bryant sells to transsexuals." The church, based in Topeka, Kansas, is run by Fred Phelps. News of the intended protest is published on one of the web sites the church runs, GodHatesFags.com. The church also operates a site called GodHatesAmerica.com.
I will not provide a direct link to their site. External links to web sites actually increases a web page's popularity, something Google calls "Page Rank." I have no desire to help this "church" or its web site. Readers can learn all they need to know from a Wikipedia page about the organization. The group condemns lesbian, gay, bisexual and transgendered people, as well as Roman Catholics, Muslims, Jews, and others, according to the article.
When Kevin Oldham, a homosexual musician, died of AIDS-related causes in 1993, Phelps Sr. sent a photo of Kevin to his parents. The photo contained the caption: "Kevin Oldham: Dead Fag".
The group was featured on CNN in 1998 when they protested the funeral of Matthew Shepard, a young man beaten to death by two men because of his homosexuality. Shepard died from severe head injuries on October 12, 1998. His murder brought national attention to the issue of hate crime legislation at the state and federal levels. Members of the WBC displayed signs at Shepard's funeral with slogans like, "Matt Shepard rots in Hell" and "God Hates Fags".
The group has protested at funerals of soldiers killed in Iraq and Afghanistan. Westboro members also protested the memorial of 2006 Sago Mine disaster victims. In this case, they claimed the mining accident was God's revenge against America for its tolerance of homosexuality.
I could go on, but I can't stomach any more. These are the people who say are coming to our Connie's funeral on Saturday.
I actually came close to tears today just trying to explain to my students today who these people are, how hurtful their actions can be, and how painful it would be to see them at this funeral. They seize every opportunity to jump into the spotlight with their hate-filled rhetoric. Envisioning them at this funeral evokes profound anguish that no one needs at this point.
My solace is remembering that Saturday is really about Connie, her family, loved ones, and all who feel her loss deeply. Saturday is a time to bid farewell and lay to rest "a real dynamo," as friend and former co-worker Mary Wilson called her. Saturday is a day to remember her smile and positive spirit, the love she showed her family, her sons, mother and friends.
These things no protest can diminish. Ever.