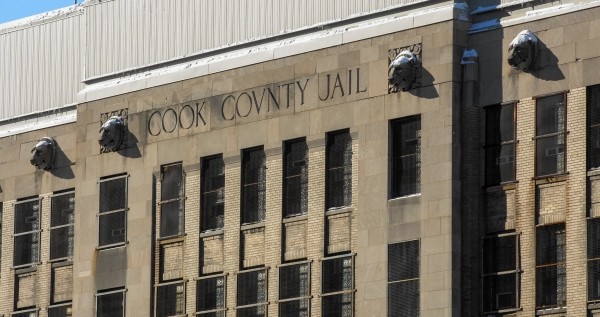 Despite major reforms, thousands of people still jailed simply because they can't pay money bonds
CHICAGO—(ENEWSPF)—July 10, 2018
On Tuesday, June 26, 2018, Chicago Community Bond Fund (CCBF) paid bond to free its 150th person from Cook County Jail (CCJ). CCBF is a non-profit organization that pays bond for people who are incarcerated in CCJ or in their homes and is also pushing for transformative bail reform. By posting bond, CCBF helps to restore the presumption of innocence and equals the playing field between the wealthy and the poor. Once each person's case resolves, the bond money posted returns to CCBF and is used to free more people from jail. Since its founding in 2015, CCBF has posted more than $800,000 through its revolving bail fund to free people from CCJ or home confinement due to electronic monitoring.
Despite significant reforms to the pretrial process in Cook County in the last year, thousands of people are still jailed  before trial at CCJ simply for being poor. In September 2017, Chief Judge Timothy Evans issued General Order 18.8A, which requires Cook County judges to set money bonds only in amounts people can afford to pay. The Order was successful in decreasing the number of people incarcerated at CCJ by more than 1,400 in three months and has the potential to eliminate the use of unaffordable money bonds entirely, but wide variance in implementation has stalled more significant impact. In the first three months of 2018, only 54% of people ordered to pay money bonds were actually able to pay them and secure release. Now, more than nine months after the order took effect, approximately 2,500 people are still incarcerated in Cook County Jail only because they cannot afford to pay their money bonds.
"Since Judge Evans' order went into effect last September, CCBF has posted bond for 59 people. We continue to get calls every week from people in Cook County Jail whose loved ones are incarcerated as a result of money bonds they can't afford to pay. This is in direct conflict with General Order 18.8A, which states that no one should be incarcerated simply because they can't afford to pay bond," said Sharlyn Grace, CCBF's Co-Executive Director.
Pretrial incarceration resulting from inability to pay money bond has severe consequences and can lead to lasting negative effects. After just 24 hours, a person can be fired from their job and put on the path to eviction. After a month of pretrial incarceration, people may lose access to benefits such as Social Security and Medicaid. People incarcerated pretrial are also more likely to be convicted and receive longer sentences, which creates lifelong collateral consequences. Through its revolving bail fund, CCBF prevents some of these harms and allows people to fight their case from a place of freedom, greatly increasing the likelihood of their case resolving favorably. CCBF volunteers also provide individualized support to people the organization bonds out of jail or off of house arrest.
"No one should be incarcerated pretrial because they don't have money to pay for bond. We  will continue to push for transformative, permanent bail reform so that bail funds will no longer have to exist," says Irene Romulo, CCBF's Director of Advocacy.
Source: www.chicagobond.org