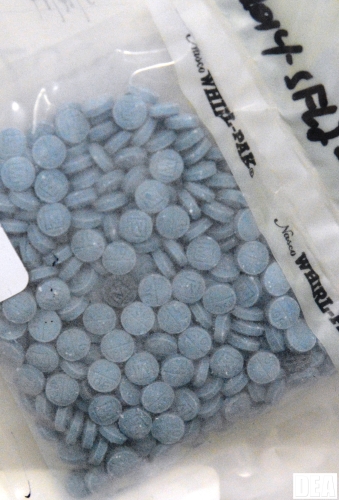 CHICAGO —(ENEWSPF)—April 20, 2018
By: Rosemary Piser
Over a dozen individuals, including the owner of an auto body shop where drugs were stashed, were charged as part of a federal investigation into drug trafficking on the West Side of Chicago.
The investigation, dubbed "Operation Broken Roe," centered on drug sales in the city's Little Village and West Garfield Park neighborhoods in Chicago. Distribution quantities of heroin, fentanyl, MDMA pills and cocaine were seized along with 12 illegal firearms, including an assault rifle, and nearly $60,000 in narcotics proceeds.
Charges were laid against Prince Brunt, 36, Devontay Johnson, 26, Corey Benson, 23, Anton Cole, 23, Anton Little Jr., 20, Larry Jones, 55, Commander White, 27, all of Chicago. Criminal charges were also placed against Marco Mendoza, 24, of Lyons, and Jonathan Reyna, 25, of Berwyn.
Federal investigators allege Johnson publicly released an Instagram post, under the username "deadendboi_vtay," depicting a large amount of MDMA pills with a phone number. Documents suggest the picture, posted earlier this week, was an advertisement for the narcotics
Criminal complaints and affidavits filed in federal court in Chicago charge 14 defendants with various drug offenses.  Several of the defendants were arrested Wednesday.  Detention hearings will be held on April 24, 2018, before U.S. Magistrate Judge Jeffrey Cole.  Five other defendants were charged in state complaints and will appear at a later time in Cook County Criminal Court.
According to the charges,
Reyna and Mendoza operated a drug trafficking organization that distributed heroin and fentanyl in the Chicago area;
Benson participated in the organization by regularly distributing Reyna's and Mendoza's narcotics and collecting payment from customers;
Cole and Little, Jr., and Johnson, worked with Benson to distribute heroin to customers;
Brunt, who owns the auto body shop in the 3300 block of West Cermak Road in Chicago, participated in the organization by permitting Benson to manufacture and store narcotics at the shop; and
Jones and White also distributed Reyna's and Mendoza's narcotics.
The complaint states that undercover law enforcement officers purchased various quantities of heroin and MDMA pills from Johnson in the summer and fall of 2017.  The purchases occurred near a residence in the 4300 block of West Wilcox Street in Chicago, where Natasha Summerville, of Chicago, maintained a drug stash house, the charges allege.  It was Johnson – using the profile name deadendboi_vtay – who publicly posted the photo of the MDMA pills on Instagram, the complaint states.  Johnson's sources for the pills were Maurice Carroll, 28, of Chicago, and Henvry Merrill, 31, of Chicago, the charges allege.
The public is reminded that a complaint contains only charges and is not evidence of guilt.  The defendants are presumed innocent and are entitled to a fair trial at which the government has the burden of proving guilt beyond a reasonable doubt.  If convicted, the Court must impose reasonable sentences under federal sentencing statutes and the advisory United States Sentencing Guidelines.
Source: www.justice.gov