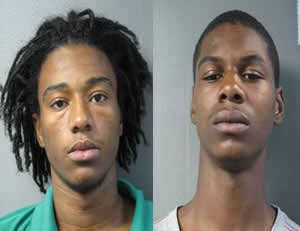 Park Forest, IL–(ENEWSPF)– The Park Forest Police Department announced this week two more arrests in connection with the fatal shooting of Park Forest resident, Adam Martinez.
Park Forest Police say the Cook County State's Attorney's office approved charges of first degree murder against 17-year-old Jabriel Anderson of Park Forest and 20-year-old Corey Anderson of Richton Park in connection with the death of Martinez.  Both were scheduled to appear in Room 104 of the Sixth District Court in Markham on Friday, September 3, for the purposes of a bond hearing. Park Forest Detectives, in conjunction with members of the South Suburban Major Crime Task Force, continued working on leads from the May 12 homicide, in which Jason Burns was charged on May 18 with First- Degree Murder.   
According to police, on Wednesday, May 12, 2010, at approximately 11:30 p.m., Park Forest Police responded to a report of gun shots fired in the 100 block of Hemlock Street. Responding officers found a 20-year old, male Hispanic, later identified as Adam Martinez, of 6 Illinois Ct, Park Forest, sitting in the driver's seat of a 2004 Chevrolet Monte Carlo in the middle of the parking lot of court H-12.
Police say officers could see one visible bullet hole in the passenger side of the front car door.
Martinez had been shot once in the right side of the head, according to police. Responding officers and Park Forest paramedics assisted the victim, eventually transporting him to St James Hospital in Chicago Heights for treatment.
Adam Martinez died on Thursday May 13, 2010, at Christ Hospital in Oak Lawn. The Cook County Medical Examiner ruled the cause of death as homicide from a gunshot.
The Investigations Commander for Park Forest activated the South Suburban Major Crimes Task Force (SSMCTF) with the Illinois State Police Crime Scene Services unit also responding. Friends of the victim, who were with Martinez at the time of the shooting, were located. Police credit those friends and many local neighborhood residents who they say assisted the police in helping to identify the alleged offenders and bring about the arrests of those involved.
Related: Richton Park Man Charged in Shooting Death of 20-year-old Adam Martinez