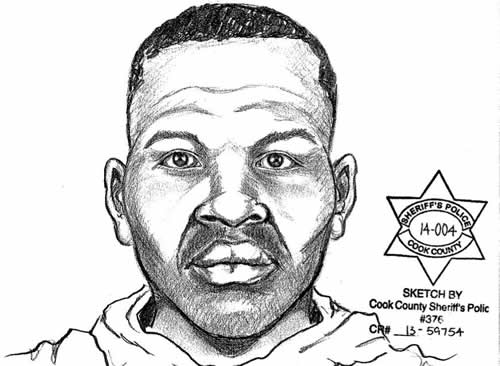 Suspect sketch. (Photo: PFPD)
Park Forest, IL-(ENEWSPF)- The Park Forest Police Department issued the following Community Alert regarding attacks on children and an adult.
3/20/2014 1:34:14 PM EST – Community Alert:
On 3/18/14 at approximately 5:45 p.m., a high school-aged female was walking through Winnebago Park when she was confronted by a subject who robbed her at knife-point and then began to grab her over her bra. The victim was able to pull away and escape. The man is described as a dark skinned black male with a beard, misaligned/yellowed teeth, 28-35 years old, 5′ 8"-5′ 10", 135 lbs., wearing grey sweat pants, a black hooded sweatshirt (with hood pulled up), and dark sunglasses.
On the morning of 3/20/14 at about 8:20 a.m., a high school-aged victim was confronted by a subject on Westgate St. and Westwood Drive who felt her body over her clothing. No weapon was inferred or displayed in this incident. The offender was described as a black male in his 20's, 180-200 pounds, approximately 5'8", wearing a brown hooded sweatshirt.
Also on the morning of 3/20/14 at approximately 9:00 a.m., a 39 year old woman walking near Shabbona Park was approached by a subject who grabbed the victim's waist from behind and thrust his pelvic area towards her. The offender was described as a black male approximately 25 to 30 years old, approximately 6', with a medium build and light skin complexion. He was described as naked but wearing a skull cap. 
It has not been confirmed if these incidents were committed by the same offender, and the Park Forest Police Department Investigations Division continues to investigate while extra patrols have been ordered for the areas. As always, we urge the public to remain alert and to always immediately call 911 if you see or hear anything suspicious. The Park Forest Police Department anticipates being able to release a sketch of the offender(s) on the afternoon on 3/20/14. 
Anyone who may have witnessed either incident or who may have information about either incident is urged to call the Park Forest Police Investigations Division at (708) 748-1309.
Source: PFPD