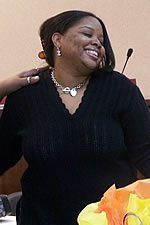 Updated February 6, 2008 at 11:20 p.m. with funeral arrangements.
Park Forest, IL—(ENEWSPF)— Connie Woolfolk, a former employee with the Village of Park Forest, was one of 5 women murdered at the Lane Bryant Clothing Store Saturday morning in Tinley Park. She leaves behind two sons, one a junior in high school, the other in the 4th grade. Ms. Woolfolk, a resident of Flossmoor, left her job with the Village in December 2006 to pursue a family mortgage business with her mother. She was 37.
The Tinley Park Police Department continues its investigation, working with the South Suburban Major Crime Task Force, the Will County Coroner's Office, the Will County States Attorney, as well as several other surrounding agencies, according to a press release issued by the department Sunday afternoon.
The 5 victims have been positively identified by Will County Coroner Patrick K. O'Neil as follows:
Connie R. Woolfolk, age 37, Flossmoor, IL
Sarah T. Szafranski, age 22, Oak Forest, IL
Carrie A. Chiuso, age 33, Frankfort, IL
Jennifer L. Bishop, age 34, South Bend, IN
Rhoda McFarland, age 42, Joliet, IL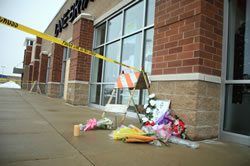 Village Manager Tom Mick contacted the Village board and staff members, in some cases making personal visits to people who worked closely with Ms. Woolfolk. "Connie was a wonderful person. On behalf of the Village of Park Forest, our condolences go out to her sons and her mother," Mick said Sunday, "We thought very highly of her as a member of our staff."
Mayor John Ostenburg expressed his shock at hearing the news and his admiration and respect for Ms. Woolfolk, "The tranquility of our south suburban region has been shattered by the horrendous nature of the actions that took place this past weekend in Tinley Park. As part of the south suburban community, the Village of Park Forest mourns the loss of life that occurred, and we extend our condolences to the families of all those who were victims of this tragedy.
"On a personal level, the passing of Connie Woolfolk is mournful in a particularly heartfelt way. While an employee of the Village of Park Forest, Connie was exemplary in fulfilling the role and responsibility of a public employee. She served the needs of the residents of our community in a way that made each person who came in contact with her feel special. I cannot recall a time when I would encounter her not to be embraced by her wonderful smile, her sparking personality, and her genuine good humor. On behalf of the entire Village of Park Forest, I offer deepest condolences to the members of her family. I remind them, however, that her legacy will be the fond memories so many hold by having known and loved her."
Mick said she was employed with the Village approximately 7 years. She started at the front desk with the Water Department, and eventually moved upstairs to the administrative offices.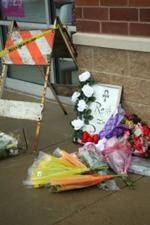 Payroll Technician Mary Wilson remembered Woolfolk fondly, "We've lost a jewel. She was always so upbeat, so positive all the time. Most people do what you ask them to do. She always put that special spin on it, taking it to another level. She was just amazing, an absolutely wonderful person to work with."
Wilson recalled a time when there was friction between some of her coworkers with the Village, and Woolfolk stepped in to mediate, "She just neutralized the situation. It was unbelievable. It seemed like it was an impossible situation among coworkers, and she neutralized the situation, and it was like nothing happened. She was always willing to help people. A people person."
When Woolfolk moved upstairs to the administrative offices, Wilson said some residents used to go upstairs to visit with her, "One man used to bring his little daughter in to see her. She had even bonded with some of the children that came in with the parents." Wilson added, "She was a dynamo. She gave you her best and beyond."
Former Director of Community Relations Barbara Moore commented how multi-talented Woolfolk was, "She just went above and beyond when she worked on projects with you. If you ever asked her to design something for you, she just went beyond."
Moore said she worked on several projects with Woolfolk through they years, once nominating her as Employee of the Month. She was impressed with the care and time Woolfold took with an elderly man who was having trouble with the phone company. "It wasn't even a problem with the Village," Moore said. "It took Connie 2 or 3 days to unravel that," again commenting how Woolfolk typically went "above and beyond."
"So, I nominated her for employee of the month, and she got it."
Both Moore and Wilson visited with Wookfolk's mother and sons Sunday, "She was a great mother. She was raising her children." Moore said the youngest son has Spina Bifidia and has had numerous surgeries. "She was an outstanding mother."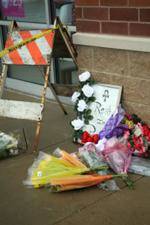 Resident Shelia Whorton, a member of the Village's Commission on Human Relations, said she met Woolfolk through the commission, and they became friends. Whorton said Woolfolk also did public speaking and grant writing, "She was just an overall nice person. She was just a joy to know, a delightful person to know and be around. She was very creative and artisitic. Very, very creative." Whorton added that Woolfolk impressed her as a person of faith, "She was a true believer. Some of the things we shared outside the Human Relations Commission was our faith and our belief in God."
"She was just an overall nice person. She was just a good person."
Administrative Assistant to the Village Manager Judith Lancaster, a friend and former co-worker, struggled to find words through her tears as she described her feelings over the loss of Connie Woolfolk, "She was just a wonderful friend and dedicated to her family and everything. We are going to truly miss her." She expressed her gratitude to Tom Mick for making a personal visit to share the news of Woolfolk's death.
Friends, Family Members Mourn Loss of Other Victims
Sue Pawlak, a co-worker of Carrie A. Hudek Chiuso at Homewood-Flossmoor High School, recalled Chiuso's generous spirit, "Carrie was very giving. She was very much a part of our Delta Program, which works with some of the most troubled kids in school. She was just so well-liked by everybody at school. She was an H-F grad." Pawlak said Chiuso had been married about two years, and she and her husband were going to start a family. "It's just a tragic, senseless loss. It's going to really affect the H-F family for a really long time."
The family of 22 year-old Sarah Szafranski issued the following statement:
Our family would like to express appreciation to everyone who has offered us their condolences, concerns and support. We ask that you keep Sarah and the other women who were killed in your prayers. We realize that this is a very public incident and with that in mind feel any information about what happened is best obtained through the Tinley Park Police Department.

As with all tragedies of this nature, it is also a very private situation. We ask that you respect our family's request for privacy while we grieve and attempt to come to terms with this senseless act of violence. Our emotions are raw and we are still in shock. There is nothing adequate anyone can say at a time like this.

Sarah was loved by all who knew her and we are counting on that love to sustain us while we mourn.
According to Tinley Park Police, the coroner determined that each of the five victims died of gunshot wounds. They ask anyone with any information regarding this crime or anyone who might have seen anything of a suspicious nature in or around the mall between 10:00 a.m. and 11:00 a.m. Saturday to call the Tinley Park Police Department at 708-444-5394, or the Cook County Crime Stoppers at 1-800-535-7867.
In addition to the cooperation of surrounding law enforcement, Lany Bryant executives have been involved in assisting police in the investigation, according to police. Charming Shoppes, Inc., and Lane Bryant companies have announced a $50,000 reward for information leading to the arrest and conviction of the person or persons responsible for these murders. Cook County Crime Stoppers is also offering a $5,000 reward.
Wake and Funeral arrangements for Connie Woolfolk are as follows:
Visitation for Connie Woolfolk will be held Friday, February 8 from 6:00 to 10:00 p.m. The wake will be Saturday, February 9 from 3:00 to 4:00 p.m. The funeral will take place Saturday, February 9, beginning at 4:00 p.m.
All will be held at A.R. Leak and Sons, 18400 S. Crawford (Pulaski),Country Club Hills , IL 60478
eNews Park Forest invites readers to login and tell us your memories of Connie Woolfolk or any of the other victims of this horrible tragedy.  You may also send your comments to [email protected].