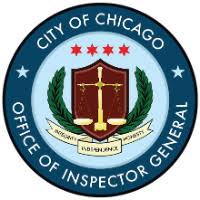 CHICAGO—(ENEWSPF)—January 16, 2018
By:  Danielle Perry
The City of Chicago Office of Inspector General (OIG) has released its fourth quarter report for 2017 to the City Council. The report summarizes the Office's activity from October 1, 2017 to December 31, 2017.
In his cover letter Inspector General Joe Ferguson addresses the future of the Office of Inspector General, including the first generation projects for the new Public Safety Section, a revitalized website that will include an interactive data portal, the establishment of a robust community engagement program and continued use of technology to expand the reach of the OIG.
This quarter's report includes summaries of concluded OIG investigations, inquiries, and other activities, including:
Restitution for the former 350Green LLC owner, Timothy Mason, in the amount of $473,395.12 to the City of Chicago for his role in fraudulently obtaining over $1.7 million in federal grants intended for the installation and maintenance of charging stations for electric vehicles. Last quarter we reported that he was sentenced to two years in prison and one year supervised release.
16 campaign finance violation matters that involved $66,400 in contributions.
The sentencing of a Department of Finance Booter, Leon Brown, to 18 months of probation for soliciting and obtaining a $100 bribe from a driver in exchange for not towing the driver's car.
The sentencing of a Department of Streets and Sanitation Tow Truck Driver, Lennie Perry, to nine years of imprisonment for a bribery scheme in which he relocated automobiles parked on City streets and solicited and received bribes in exchange for returning the relocated vehicles to the victims.
An audit of the Chicago Police Department's (CPD) controls related to regular-duty overtime which found that CPD's operational controls do not adequately prevent unnecessary overtime, deter abuse of minimum time provisions, or ensure that overtime is paid in compliance with policies and procedures. The audit also found that CPD management controls do not prevent officer fatigue, control costs or deter or prevent fraud, waste and abuse.
An investigation which established that a Policy Analyst for the Department of Buildings (DOB) sexually harassed a 17-year old high school intern under their supervision. The employee made multiple unwanted verbal and physical sexual advances toward the intern while at work and on two unauthorized, extended breaks. DOB discharged the employee, following the OIG's recommendation, and placed the employee on the ineligible for rehire list.
An OIG investigation established that a Department of Water Management (DWM) employee did not obtain departmental permission to perform outside employment as an Uber driver and made false statements to the OIG. OIG recommended discharge and referral to the ineligible for rehire list. DWM placed the employee on administrative leave while it initiated disciplinary action. The employee retired and has been designated to have retired under inquiry.
The full Fourth Quarter Report can be found online at the OIG website: http://bit.ly/OIG2017Q4
Follow @ChicagoOIG on Twitter for the latest information on how OIG continues to fight waste, fraud, abuse, and inefficiency in Chicago government.
Source: www.ChicagoInspectorGeneral.org