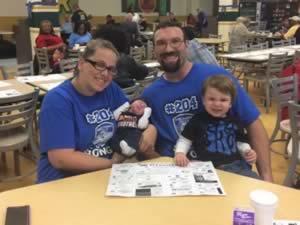 Editor's note: As this was the last article published Saturday evening, this article showed front and center on eNews Park Forest's home page through Sunday afternoon until another article was published. That's simply the mechanism of our home page, and should not at all be considered an endorsement of this candidate. Editorial endorsements will follow from the publisher.
Park Forest, IL-(ENEWSPF)- Keeping in mind that the following is in the candidate's own words, eNews Park Forest reproduces here information provided by the Park Forest Non-Partisan Committee. We are publishing these statements alphabetically, and the order of publication should not be construed as an endorsement.
We publish these statements as-is, without edits to grammar or spelling. We will indicate such errors in common fashion. using the Latin word sic, "thus," short for sic erat scriptum, "thus was it written." We hold that small matters are important, like grammar and spelling.
Editorial endorsements will follow.
We present Jonathan Vanderbilt, candidate for Village Trustee.
His statement follows:
My name is Jonathan Vanderbilt and I am a fourth generation Park Forest resident.

My wife Kathleen and I grew up in town and went to Rich East and Crete-Monee, respectively. I currently live in Area B Cooperative with my wife and two sons. I graduated from Millikin University with a Bachelor [sic] in History, minoring in Political Science. I'm currently working on an Associate in Construction Management through my Union Apprenticeship Program and earning my Masters at Purdue University in Career and Technical Education.

Park Forest has a great tradition of having community residents volunteer to serve the village on various commissions and committees. I have worked on the Mayor's Citizen Advisory Committee, Recreation and Parks Commission, Environmental Committee, and Community Garden Commission; where I was able to start a community garden on Algonquin Street working with neighbors and youth. I also serve at my church, Sauk Trail Baptist Temple, in various youth programs. I have a passion and desire to see our town's youth succeed. With that goal in mind, I want to create an education commission to unite the six school districts in the village, bringing all elected officials and Police together to collaborate on how to create a pathway for our youth.

Depopulation in the Village has become a major contribution to many of the village's problems including high property taxes, increasing water bills, lack of support to bring in major tax generating businesses, and a high crime rate.

If elected I would try and solve these problems by:

Developing a property tax freeze on homeowners
Implementing voter approved referendums for all school tax levies.
Bottling excess village water to offset rising infrastructure costs
Creating an industrial/commercial park on the South end of town
Starting Neighborhood Redevelopment Initiative
Establishing an Education Commission
Launching Police/Fire Cadet Programs