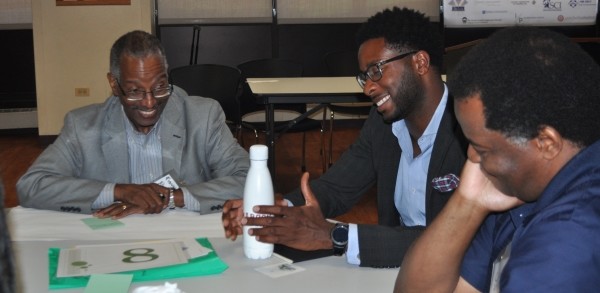 North Lawndale, Chicago–(ENEWSPF)–August 1, 2017.  On July 27 and 28, I AM ABLE hosted its 5th Annual Trauma Conference at Sinai Community Institute.
Over 350 community residents (i.e. parents, youth, local businesses, educators, health/social service providers and public servants) met to learn, plan and organize a productive and healthy way to respond to negative community events, often birthed out of various traumas.
The Trauma Conference brought together synergistic thought leaders, to define and develop an action plan that will dismantle the crippling effects of inequities in education, as it relates to wealth, health, relationships, politics and academia.  Community sustainability and the active engagement in solutions exposed the severity of mis-information about the under-resourced support in North Lawndale.  Communities where African Americans live are isolated from resources and healthy development.  These were the primary areas of focus for the conference.
Apostle Dr. Carolyn L. Vessel, CEO/President, of I AM ABLE Inc, and convener of the Trauma Conference said, "We're here to work together to stop the cycle of trauma and violence by understanding what we know and need to know…and by providing critical information that can change minds and hearts."
"We must ensure that our children and families have a healthy community in which to prosper.  The systemic changes we need require new thinking patterns, that allow love to flow like a mighty river."
Expertise converged from throughout the city to be active leaders and participants in the conference. Youth Leaders accessed the genius of Xavier Ramey, University of Chicago Senior Assistant Director for Social Innovation and Philanthropy.  The Example Setters Youth Poetry Squad powerfully shared their message of personal responsibility and success in the face of trauma.  And Malcolm London, poet, Ted Talk alumn, and community activist, led a moving and provocative keynote with his poetry and personal story.
Dr. Terry Mason, COO, CCDPH, in the conferences opening keynote, informed the audience, "The situation of violence requires educating all people about the purpose of the systemic, historic, global, and intentional de-evaluation of people of color.  There is no quick answer to a several hundred-year-old problem."   A multiple number of activities and approaches are needed to bring solutions.
"Sinai is a proud member and host of the Trauma Conference and TR4IM's monthly meetings."  (TR4IM is I AM ABLE Center for Family Development's trauma and violence prevention program piloted in an 8-block sector), funded by the Steans Family Foundation.  "Dr. Vessel is leading and convening this community effort that has already made an impact in the first TR4IM 8-block sector," said Debra Wesley, President, President of Sinai Community Institute, Executive Vice President for Community Outreach for Sinai Health System and  Chair of the I AM ABLE Board of Directors.
"The 2017 Trauma Conference was something that was greatly needed for Chicago's West Side. The gathering of so many people representing the programmatic, policy-related, institutional, and community organized responses to health and trauma was a breath of fresh air for me. I was honored to speak as a panelist, and to lead a discussion with youth about enlisting interdependent relationships and community economics as a tool to fight anger, poverty, and violence. Their responsiveness was in no short part due to the work of the staff and volunteers who laid the foundation throughout the day for people young and elder who were interested in combatting one of the greatest dangers facing the black and brown communities of Chicago," stated of Xavier Ramey, UCSC Senior Assistant Director for Social Innovation and Philanthropy The University of Chicago,  Office of Civic Engagement, University Community Service Center (UCSC).
Conference speakers included Dr. Terry Mason, COO, CCDPH; Dr. Audrey Stillerman, UIC; Malcolm London, Ted Talks; Dr. Amara Enyia JD, PhD, Public Policy Consultant and Public Policy Director; Xavier Ramey, UCSC Senior Assistant Director for Social Innovation and Philanthropy, Office of Civic Engagement, University of Chicago, and Amy P. Campanelli, 10th Public Defender of Cook County, the second woman to serve in that position.
For more information about I AM ABLE Center for Family Development, Inc. contact 773-840-8061 or visit www.tr4im.org
Source: http://www.tr4im.org