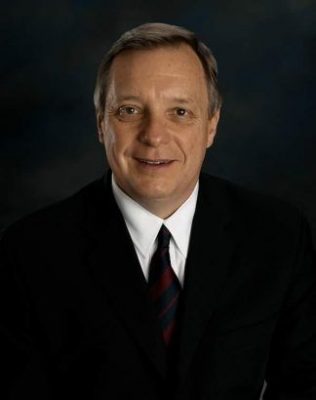 CHICAGO—(ENEWSPF)–September 18, 2018
In recognition of his commitment to repairing homes and revitalizing communities, U.S. Senator Dick Durbin will be honored at Rebuilding Together Metro Chicago's annual Paint the Town celebration on Thursday, September 20 at The Lakewood, located at 1758 W Lake Street in Chicago.
The Community Service Award recognizes an outstanding public servant who has committed their career to the improvement of the communities where Rebuilding Together Metro Chicago focuses our work. The inaugural Community Service Award was presented to Cook County President Toni Preckwinkle in 2016, followed by Mayor Rahm Emanuel in 2017.
"We are delighted to present U.S. Senator Dick Durbin with the 3rd Annual Community Service Award for dedicating his career to working on behalf of the people of Illinois for nearly 35 years," said Wanda Ramirez, CEO of Rebuilding Together Metro Chicago. Ramirez added that she "greatly admires Durbin's commitment to public service and activism in many issues that impact the communities we serve."
"It is an honor to receive this award from Rebuilding Together Metro Chicago – an organization that works tirelessly to ensure that more people can live safely and with dignity in their communities," Durbin said. "This organization's commitment to volunteerism and community partnership is inspiring, and I look forward to continuing to work alongside Rebuilding Together Metro Chicago to revitalize neighborhoods."
Moments to Note:
6:00 – Opening Reception
7:00 – Opening Remarks, Award Presentations
8:00 – 9:00 Paint the Town Celebration
Ticket information can be found here.
U.S. Senator Dick Durbin, a Democrat from Springfield, is the 47th U.S. Senator from the State of Illinois, the state's senior senator, and the convener of Illinois' bipartisan congressional delegation. Durbin also serves as the Democratic Whip, the second highest ranking position among the Senate Democrats. Senator Durbin has been elected to this leadership post by his Democratic colleagues every two years since 2005. Elected to the U.S. Senate on November 5, 1996, and re-elected in 2002, 2008, and 2014, Durbin fills the seat left vacant by the retirement of his long-time friend and mentor, U.S. Senator Paul Simon. Durbin sits on the Senate Judiciary, Appropriations, and Rules Committees. He is the Ranking Member of the Judiciary Committee's Subcommittee on Immigration and the Appropriations Committee's Defense Subcommittee.
Rebuilding Together Metro Chicago, an affiliate of Rebuilding Together, Inc., works to make a sustainable impact in partnership with communities, while improving the homes and neighborhoods of residents in need so they may continue to live in warmth, safety and comfort.  Since its inception in 1991, Rebuilding Together Metro Chicago has repaired 1,800 homes and 275 nonprofit facilities in the Chicagoland area.  Rebuilding Together is a leading national nonprofit organization with a mission to repair the homes of people in need and revitalize our communities. Each year, Rebuilding Together affiliates and nearly 100,000 volunteers repair 10,000 homes across the country. For more information, visit www.rebuildingtogether-chi.com
Source: www.rebuildingtogether-chi.com