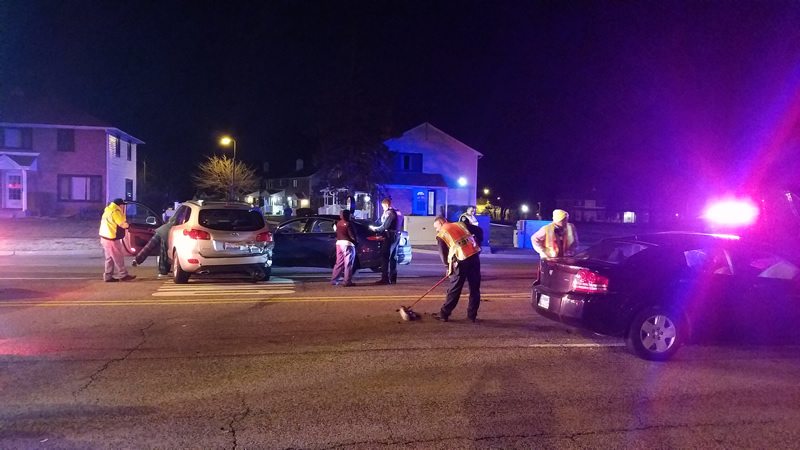 Park Forest, IL-(ENEWSPF)- Two cars were not facing the right way. The third was in a southbound lane, but the hood of the vehicle was up, raised high, as the owner waited for a tow.
An engine and ambulance from the Park Forest Fire Department were on the scene, but no one was hurt, according to one witness. The witness was a family member who showed up to pick up one of the drivers. However, when the call came in to SouthCom Dispatch, the crash was reported as a personal injury, according to a spokesperson at the Park Forest Police Department. As of 9:15 p.m., however, the reporting officer had not been in to the PFPD to report to the watch commander.
"It's been busy for a Monday night," the spokesperson said.
Two police squad cars were also present at the accident.
Three cars collided on Western Avenue Monday night. Members of the PFFD were clearing the road of debris, and only one northbound lane appeared to be open.
The crash happened directly in front of CVS Pharmacy just south of Main Street.
All street lights were lit. The road was long clear of the ice and snow that had visited Park Forest only recently.
Police were still taking information as a tow truck arrived and the ambulance departed. The ambulance departed heading south on Western Avenue.
More photos: