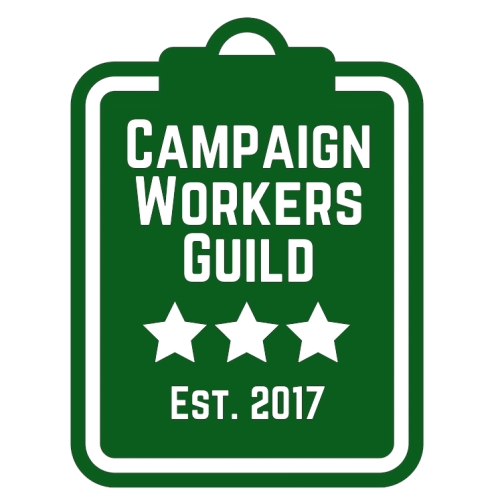 Campaign Workers for Marie Newman, Democratic Candidate for IL-03, in Negotiations to Unionize with Campaign Workers Guild
CHICAGO, Il. —(ENEWSPF)—March 9, 2018
By: Rosemary Piser
The Campaign Workers Guild announced that its first collective bargaining agreement in Illinois was ratified by campaign staff for Citizens for Renato Mariotti.  Candidate Mariotti is running for attorney general in the Illinois Democratic primary. The ratification of today's agreement brings the number of Campaign Workers Guild contracts to seven.
Emma LaBounty, a member of the Executive Council of the Campaign Workers Guild said, "Campaign workers working on races at all levels of our political system, from local races, to federal races, to statewide races, are standing up for respect on the job and power at work. A resident of Illinois myself, I've seen campaign workers across the state express so much excitement in the weeks since our movement has gone public. Through the ratification of our first contract in Illinois, campaign workers are showing that they are serious about asking Illinois candidates to practice what they preach by supporting their staff's collective bargaining rights and negotiating a fair contract."
"Our campaign made the unanimous decision to unionize because we wanted to be a part of this important moment in history and stand in solidarity with the Campaign Workers Guild's movement to protect the rights of campaign workers and movement builders nationwide," said Mary Difino, Deputy Field Director.  "As a unit, we are proud to join other campaigns across the country in pressuring candidates to set a precedent and practice our Democratic values of fair and equitable labor starting right in their own offices."
The Campaign Workers Guild also announced today that campaign workers for Marie Newman, Democratic candidate for IL-03, are forming a bargaining unit. These workers organized, successfully fought for voluntary recognition, and are now leading negotiations at the bargaining table.
Meg Reilly, Vice President of the Campaign Workers Guild said at today's announcement, "One of the most electrifying aspects of this movement is the energy and excitement of CWG members, and this bargaining unit's energy is off the charts. Campaign workers are finally getting to experience what it feels like to bargain collectively, stand together, and improve their working conditions. There are no words to express what solidarity is until you've felt it — and workers for Marie Newman are feeling it."
"Instead of letting the tough conditions and pay disparities of campaign work divide us, my coworkers and I are coming together to assert our power and make improvements. My sense of solidarity with my coworkers, and campaign workers everywhere, has grown so much as a result of taking action together" said Eric Holmberg, Field Organizer for Marie Newman for Congress. "This campaign is all about living up to progressive values. We formed a union to enact those values in our own workplace."
The Campaign Workers Guild is a new independent national union representing non-management workers on electoral and issue-based campaigns. Learn more about the Guild on their website.
Source: www.campaignworkersguild.org