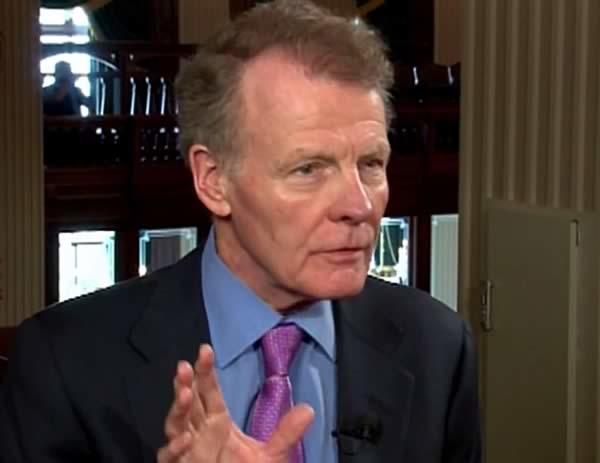 SPRINGFIELD, Ill. –(ENEWSPF)—June 1, 2017.  House Speaker Michael J. Madigan issued statements on Wednesday regarding the State budget, local government consolidation measure, Workers' Compensation reforms.
Regarding the House Democrats continuing to work to find common ground with Governor Rauner and toward State Budget:
"There is no more urgent matter facing the state than the passage of a comprehensive, balanced budget, and House Democrats will continue our efforts to address this challenge, end this destructive impasse and close the Rauner budget deficit. The House Democratic Budget Working Group led by Representative Greg Harris will hold public hearings and continue working in June to prepare a budget for the coming fiscal year. The first hearing will be held on June 8 in Chicago.
"The governor's reckless strategy of holding the budget hostage to create leverage for his corporate agenda that pads the profits of large corporations and insurance companies has for the third year left Illinois without a budget at the end of the May legislative session. He has put our schools at risk of being unable to open, denied care to victims of domestic violence, kept tens of thousands of seniors from receiving Meals on Wheels, and tripled Illinois' backlog of unpaid bills. This cannot continue.
"Where we can compromise with the governor without hurting middle-class families, House Democrats have consistently advanced measures that address the governor's requests so we can get down to the work of passing a balanced budget. House Democrats have:
Voted to provide property tax relief to homeowners;
Put forward reforms to the workers' compensation system that will ensure employers see the savings from reform;
Introduced an agenda of economic reforms that make Illinois a better place to do business while also lifting up middle-class families, not tearing them down;
Voted at the governor's request to streamline the state procurement process;
Voted to sell the Thompson Center.
"I have directed members of the House Democratic leadership team to meet with the governor and seek common ground on his other proposals. To date, the governor has refused to meet.
"We remain ready to work with the governor and find common ground whenever he is ready to return to the table and work in good faith."
Regarding the passage of House Bill 2525 making Workers' Compensation Reforms:    
"House Democrats have consistently stated that we will work with the governor to reach compromise, but we will not hurt middle-class families. Throughout his tenure, Governor Rauner has made it clear that changes to the workers' compensation system are a pre-condition to his cooperation on a state budget. While the governor's plan does not have the support of majorities in the Legislature, we can still find common ground on this issue.
"The bill passed today will help ensure Illinois businesses see the benefits of reform by requiring insurance companies to pass savings on to local employers. It takes steps to crack down on fraud and abuse, and includes additional measures to reduce costs without jeopardizing the health or economic security of workers. We believe this compromise meets the governor's stated goal of reducing workers' compensation costs for businesses, and Democrats' goal of protecting working people and their families.
"As House Democrats work to address the governor's pre-conditions to a budget, we remain steadfast in our belief that the budget is the most important issue facing families, seniors, children, and businesses. We ask the governor to stop holding the state budget hostage and join us in working in good faith to end this destructive impasse."
Regarding passage of local government consolidation measure (Senate Bill 3), which allows taxpayers to consolidate duplicative and unnecessary units of local government and addressing another element of Gov. Bruce Rauner's agenda:       
"With today's passage of a local government consolidation package negotiated by Governor Rauner, House Democrats have again advanced legislation directly addressing the governor's pre-conditions to negotiating a budget.
"As a new fiscal year quickly approaches with no budget yet in place, the governor's approach of refusing to negotiate a budget is setting our state on a course for a third straight year of impasse and destruction. It's not too late for the governor to change course and come back to the table. If and when he does, he will find House Democrats waiting to negotiate and compromise."
Source: House Speaker Madigan's Office