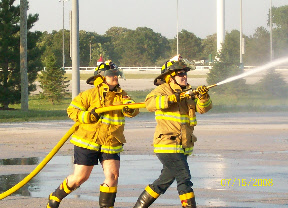 MATTESON—(ENEWSPF)—September 7, 2018
Congresswoman Robin Kelly announced today that seven South Suburban fire departments were awarded federal grants totaling more than $1.5 million. This federal funding will be used to hire, recruit and improve operations and safety within the departments. The following departments received grants:
Burnham Fire Department — $134,855
Crete Township Fire Protection District — $27,000
Flossmoor Fire Department — $348,992
Harvey Fire Department — $921,300
Glenwood Fire Department — $8,234
Limestone Township Fire Protection District —  $69,686
Phoenix Fire Department — $54,959
These grants follow another, awarded to the Homewood Fire Department, that Congresswoman Kelly announced last week.
"I'm very pleased to see our local fire departments taking the lead to improve their operations by receiving federal grant funding. It's important for fire departments, schools and municipalities to research and use the wide range of government funding opportunities that are available for local projects," said Congresswoman Robin Kelly. "Recently, Senator Tammy Duckworth and I hosted a workshop to connect local leaders with federal grant opportunities that can finance a range of initiatives, from infrastructure projects and disaster relief to community enhancement and public safety improvements. More than 60 mayors and city managers attended the event."
The grants were awarded through the Department of Homeland Security's Federal Emergency Management Agency in cooperation with the U.S. Fire Administration.
The purpose of the Assistance to Firefighters Grant (AFG) program is to strengthen the nation's overall level of preparedness and ability to respond to fire and related hazards. Since 2001, the AFG Program has provided approximately $7.1 billion in grants to first-responder organizations to obtain much-needed emergency response equipment, personal protective equipment, as well as firefighting and emergency vehicles and training.
Source: www.robinkelly.house.gov