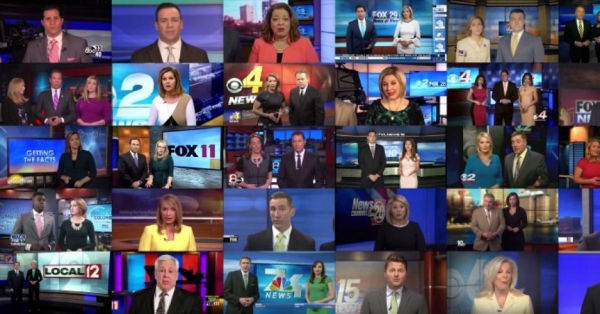 CHICAGO—(ENEWSPF)—April 16, 2018
By: Rosemary Piser
It has been reported that Sinclair Broadcast Group (Sinclair) required local news anchors at Sinclair-owned television stations across the country to deliver a scripted promotional message on-air. In response to this report, Senate Democratic Whip Dick Durbin (D-IL) today pressed Federal Communications Commission (FCC) Chairman Ajit Pai to carefully consider Sinclair's conduct and the significant harm it poses to the public interest as he considers the proposed merger between Sinclair and Tribune Media Company (Tribune).  If approved, the proposed merger would allow the combined company to influence programming reaching 72 percent of households nationwide.
In a letter to Chairman Pai, Senator Durbin wrote, "The interests of local audiences cannot help but be harmed when their trusted local reporters are required to deliver corporate-scripted messages—at times without providing a disclaimer of their source—or forgo covering salient local news to deliver mandated national content.  Unfortunately, this is Sinclair's record. In making its determination whether the proposed merger to allow a single company to reach 72 percent of U.S. television households serves the public interest, I urge the FCC to carefully consider Sinclair's conduct and the significant harm it poses."
A recent report showed local news anchors reading the same Sinclair-produced script verbatim continuing the history of Sinclair dictating content to its stations.  Recent reporting also suggests that there are contractual penalties for Sinclair-owned stations and employees that refuse to run Sinclair-produced mandated content.  Sinclair representatives repeatedly denied that it made content requirements to local stations in a November 2017 meeting in Durbin's office.
Earlier this month, Senator Durbin called on Sinclair Executive Chairman David Smith to explain his company's policy regarding mandating content for local news stations, as well as whether employment consequences exist for local news anchors who do not deliver scripted content from the broadcasting giant.   Durbin has yet to receive a response from Chairman Smith.
Full text of Durbin's letter is available here
Related Articles:
Sinclair Broadcasting Airs Allied Progress Ad – Between Attacks on the Group
To Defend Policy of 'Must-Run' Commentaries, Sinclair Forces Stations to Use 'Must-Run' Commentary by Former Trump Aide
'Stuff of Nightmares': Viral Video Shows Sinclair Forcing Local TV Anchors to Recite Trumpian Propaganda
Source: www.durbin.senate.gov