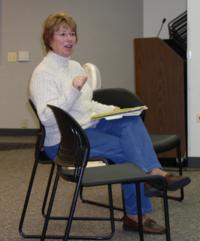 State Senator Maggie Crotty spent the better part of two hours at Park Forest Village Hall Saturday in a town hall meeting. Approximately 25 residents had the opportunity to ask questions and engage in dialogue in an informal setting. Topics discussed included school funding reform, taxes in Park Forest, and mental health issues.
The senator began by stressing her belief that mental health issues should receive priority in the state. She worked with persons with disabilities prior to her legislative experience. She spoke of her involvement with groups that work with mental illness. The Tinley Park Mental Health facility is in her district. She wants to keep such services in her district, seeking a new, 100-bed facility. She already has 60 co-sponsors on the Rights for Persons with Disabilities act which she is a chief sponsor.
Senator Crotty stressed her commitment to school funding reform. A school board member for 15 years, 8 as president, Crotty expressed her desire to see movement in Springfield soon. "We don't need to reinvent the wheel," she said, "750 was a good start," referring to House Bill 750 which did not pass. She said that momentum seems to be shifting in downstate Illinois. "10 years ago, when I was elected to the legislature, school funding was seen as a south suburban problem." She expressed the frustration she felt at the time trying to explain to one fellow legislature the inequity of property taxes. She told her colleague, "If I took your home and brought it to the south suburban area, even you couldn't live in it." The state is in a "good news/bad news" situation today, "The majority of the state is now feeling out pain."
When asked if she expected to have the support of Governor Blagojevich on any school funding reform measure, the senator responded that they are looking for enough support to override a veto, should that occur.
Much discussion centered on property taxes, specifically the problems that arose last year with the inequities in Park Forest because, in part, because cooperatives in Park Forest benefited from the increased homeowners' exemption. "The exemption applied to all homeowners in the state." Senator Crotty said that many co-ops in Park Forest sell for $10,000, and property taxes are usually based in part on the selling price of comparable living units. "If they're able to sell them, they're a homeowner," according to the law. One resident asked if cooperatives could be valued for the entire entity. "These are all things the Assessor is looking at now. We have to look at what housing industry this actually fits in? Are they a home owner or not?"
Some residents asked if the senator was aware of any legal help for specific issues, citing the expense of hiring an attorney. Park Forest resident and Judge of the Circuit Court of Cook County Ray Funderburk, also in attendance, suggested that the residents try to contact the Cook County Legal Assistance Foundation. "Whether or not they will take your case, at least they will talk to you. You don't necessarily have to pay an attorney."
When asked by a resident if she voted with her party or voted her conscience, Senator Crotty said she votes her district. "A Democrat could stand up for a bill that is not good for my district, and I'll vote against it. A Republican could stand up for a bill that is good for my district, and I'll vote for it. I will continue to vote for what is best for my district."