St. Liborius School Named Second Champion in "Calling All Communities" Campaign
Crete, IL–(ENEWSPF)– A dodge ball tournament turned into a $100,000 celebration this morning at St. Liborius School in Crete. Seventy-five U.S. Cellular associates interrupted the game with big news for the little private school. The elementary school became the second winner in U.S. Cellular's 2010 Calling All Communities campaign. Students, teachers and faculty erupted into cheers of joy as confetti filled the air in the school gym and U.S. Cellular associates passed out t-shirts and 100 Grand candy bars to the new champions.
"We are such a small school and we worked so hard," said St. Liborius Principal Mary Jane Bartley, who was notified of the school's victory only days prior to the surprise announcement. "I couldn't believe it. You don't know how difficult it was to keep it a secret. I am just ecstatic."
St. Liborius joins nine other winners who will share $1 million. The eight remaining champions will be announced throughout the month. The winners beat out more than 6,800 schools by receiving the most community votes during the two-month campaign to earn a winning spot. Each school receives $100,000 to use anyway they choose. St. Liborius plans to use the money to consolidate its Crete and Steger campuses to bring all K through 8th grades to one location for a more unified school.
"This gift is just wonderful and could not go to a more deserving institution. I know for fact that it will be put to good use," said Crete Village President Michael Einhorn. "This victory proves that when communities work together, amazing things happen."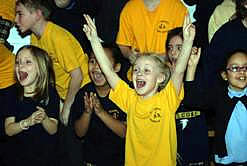 Unlike Seymour High School in Tennessee, that received news of its win on Tuesday, St. Liborius never appeared in the Top 10 during the campaign. U.S. Cellular officials say the school is one of four surprise winners that came from behind to unseat some long-time frontrunners. An outpouring of community support pushed the 90-student school into the money in the final weeks of the campaign.
"We are proud to have a champion in the Chicagoland area this year," said Shelley Boersma, vice president of U.S. Cellular's Midwest region. "I had no doubt that our communities had the power to bring home a win and St. Liborius ran an amazing campaign. Playing dodge ball with the kids was almost as much fun as giving them $100,000."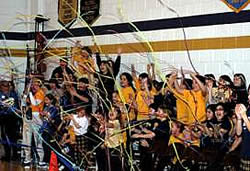 This year's voter participation on the Calling All Communities campaign nearly quadrupled with 430,000 votes cast for 6,800-plus schools nationwide. U.S. Cellular associates will continue to make random, spontaneous visits to the remaining schools throughout February. Visit uscellular.com or U.S. Cellular's Facebook page to view winning school results.
About U.S. Cellular
The 9,000 associates of U.S. Cellular believe a wireless phone enhances people's lives and a wireless company should be in the business of bringing people together. U.S. Cellular has a wide range of monthly plans, including those with unlimited nationwide calling, unlimited free incoming calls and options to prepay. The company made the commitment to invest more than $5 million in teachers and schools during 2009 and 2010. Based in Chicago, U.S. Cellular is the nation's fifth-largest full-service wireless carrier, serving 6.2 million customers across the country. To learn more about the company visit one of its retail stores or uscellular.com.