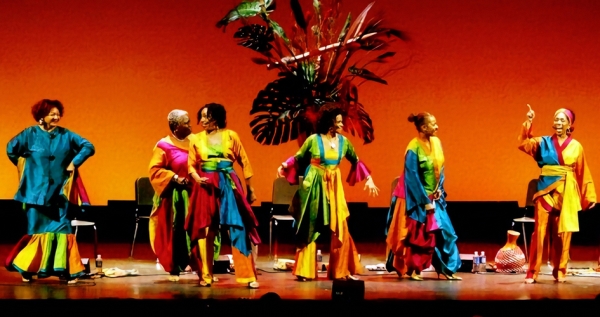 A cappella ensemble to bring mission of empowerment, education to campus community
CHICAGO—(ENEWSPF)—February 23, 2018
By:  Andrew Bauld
Sweet Honey in the Rock, an internationally acclaimed, Grammy Award-nominated female African-American a cappella ensemble, has been appointed the Don Michael Randel Ensemble-in-Residence at the University of Chicago for the 2018-19 season.
The ensemble, which seeks to preserve and extend the traditions of African-American vocal music through a range of genres, will bring its mission of empowerment, education and entertainment to the University through a wide variety of programs designed to impact the campus, the community and the city of Chicago.
"We're excited to welcome this vibrant musical group as the Don Michael Randel Ensemble-in-Residence," said Bill Brown, senior adviser to the provost for arts. "We look forward to connecting Sweet Honey's mission to the University community through a season of creative and diverse programs."
During its three residency weeks in 2018-19, Sweet Honey will work with students in the Department of Music's choral ensembles in a sequence of workshops, coaching sessions and free public performances. The ensemble also will visit Department of Music classes; participate in panel discussions with the Center for the Study of Race, Politics and Culture and other campus entities; host a workshop and song circle with community singers; present educational outreach concerts for local K-12 students; and present public performances on campus.
"We are thrilled to be able to bring such a high-profile vocal ensemble to campus for this residency," said Barbara Schubert, director of performance programs at the University of Chicago. "Sweet Honey's high artistic standards, finely honed repertoire and deep commitment to issues of social justice will have a profound and lasting impact on the students and audiences with whom they interact."
The 2018-19 season marks the first time a choral ensemble has served as the Don Michael Randel Ensemble-in-Residence. Imani Winds, a Grammy Award-nominated woodwind quintet, will complete its two-year residency at the end of this season, with performances on May 11-12 at the Logan Center for the Arts.
Sweet Honey In The Rock is celebrating its 45th anniversary and performing season in 2018. The current ensemble features four core members: Louise Robinson, Aisha Kahlil, Nitanju Bolade Casel and Carol Maillard. The ensemble is joined by featured guests: bassist Romeir Mendez and vocalist Rochelle Rice.
"We look forward to sharing our music, legacy and commitment to social justice and evolutionary thinking and action with the University, its students and the surrounding communities in the Chicago area," the group said in a statement.
The Don Michael Randel residency program supports an acclaimed musical ensemble for up to three years, providing a permanent home for world-class musicians to engage with the University and Hyde Park communities. The residency was established with a gift from the Andrew W. Mellon Foundation to honor its departing president, Don Michael Randel, who served as the 12th president of the University of Chicago and is an emeritus faculty member in the Department of Music.
Source: www.uchicago.edu